Prince William's 'nightmare' habit that drives Catherine mad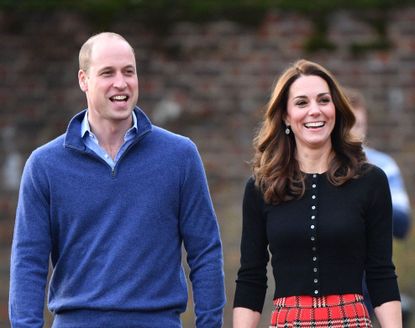 (Image credit: Tim Rooke/REX/Shutterstock)
It turns out that the Duke and Duchess of Cambridge bicker just like normal couples.
If you thought that living in Kensington Palace and travelling around the world all year long would mean Prince William and Catherine have impeccable cleanliness, think again!
During a visit to Cyprus on Thursday to open a new military recreation centre, William was admiring the centre's new yellow sofas when he was reminded of one of his messy habits - that often drives Catherine mad.
Recalling the Duchess' scolding, William looked at her joked, "Keep the pizzas off the sofas!"
Overhearing her husband's remark from across the room, Catherine teased, "You're a nightmare with that!"
Former RAF pilot William also reminisced on the time the served away and how he would make 15-minute calls home.
"FaceTime makes such a difference now," he said.
Later on, the Duchess revealed more about the Cambridge family home life when she told crowds at RAF Akrotiri in Cyprus that seven-month-old Prince Louis is learning to wave.
People reported that Rhian Davis, 32, who was carrying 10-week-old daughter Dorothy, said Catherine stopped to chat about their children.
Rhian told the publication, "She asked whether she was sleeping through the night, and she told me that Louis is starting to wave."
Shortly before travelling to Cyprus to meet the servicemen and women serving at RAF Akrotioro, William and Catherine hosted a festive party in honour of those serving overseas during the Christmas period, at Kensington Palace.
The family event featured stalls and treats for the military families, but Prince George, 5, and Princess Charlotte, 3, arrived too late after school and nursery to enjoy the party.
Catherine explained, "We took the children down to where the party was but everything was gone. They were so disappointed!"
Although the young royals didn't get their fill of festive treats, George had already set his sights on something else.
William shared with RAF pilots, "I told George this morning we were going to see the pilots today, and he said, 'If you see a helicopter, can you take a picture?'"
Looks like George takes after his aviator father!
Isa Jaward is a journalist from London who has written for the likes of Time Out, The Guardian and Music Week.