Catherine catches Prince William laughing at RAF centenary service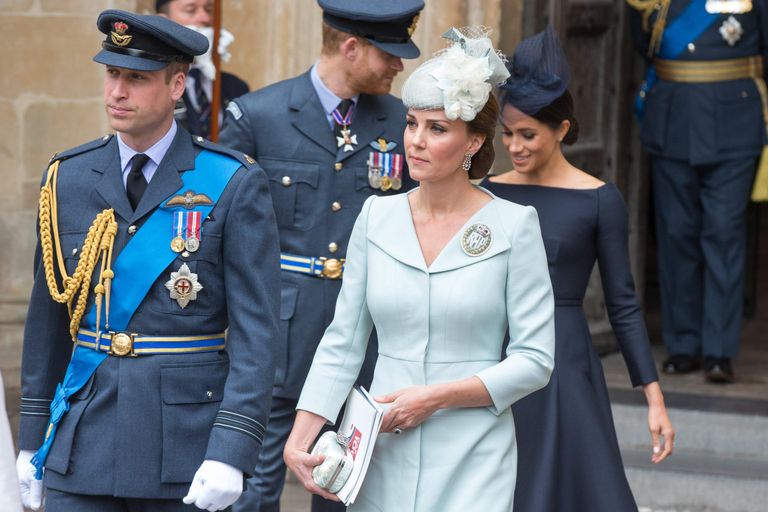 By Amy Hunt
Yesterday, the Duchess of Cambridge returned to the spotlight for a brief moment, to attend a Royal Air Forces centenary service at Westminster Abbey.
During the break in her maternity leave, Catherine joined husband Prince William and Harry and Meghan for the service, wearing a stunning powder-blue Alexander McQueen suit with matching fascinator.
And, while it was back to business as usual, the Duke and Duchess encountered a funny moment together as they took their seats in the Abbey.
As they settled into their chairs, cameras caught Prince William launch into a giant smirk, and eventual giggle, as he watched something happen on the other side of the church.
While Prince William struggled to contain his laughter, Catherine on the other hand was seen staring somberly into the distance.
However, the Duchess soon clocked on to what her husband was up to, quickly turning around - and catching William right in the middle of his giggle.
It's not clear what the Duke was laughing at, but he went on to explain to Catherine what he found so funny, prompting a small smile from her too.
He later checked his watch whilst chatting to his wife. So could someone have been running late?
It's a rarely spotted, sweet moment of interaction between the Duke and Duchess, given that they usually don't take part in public displays of affection.
We would certainly have loved to know what they were giggling about!
It's been a busy few days for the Cambridges, with the family celebrating the christening of Prince Louis the day before the RAF service.
It's thought however that the Duchess of Cambridge won't return to full royal duties for some months yet, taking an extended period of maternity leave with her third baby.
Prince William on the other hand is back to work full-time, undertaking a multitude of royal engagements and trips abroad solo, while Catherine looks after their three children.