Prince William and Princess Catherine's big change fans are loving as they step up their game
Prince William and Princess Catherine have switched up something big and it hasn't gone unnoticed by fans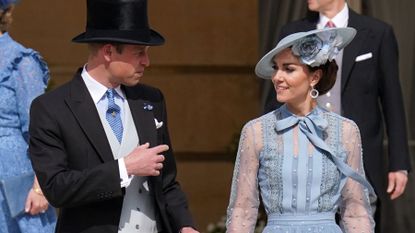 (Image credit: Getty Images)
Prince William and Princess Catherine have made some changes lately that haven't gone unnoticed by fans.
It seems that Prince William and Kate Middleton have stepped up their game when it comes to social media.
The Prince and Princess of Wales's latest Instagram posts have gained some big praise from royal fans, with the pair seemingly making sure to keep up with the times as they step into their new shoes in King Charles's modern monarchy.
In other royal news, the job Prince Louis wants when he 'grows up' isn't out of the question like Prince George's 'dream' career.
---
With a new era of the monarchy having started, with King Charles III officially on the throne, it seems that Prince William, who is first in the line of succession, and Princess Catherine have stepped up their game when it comes to their online presence.
King Charles is said to have big plans for his new 'slimmed down' and more 'modern' monarchy and it appears that social media is going to be more at the forefront for the Prince and Princess of Wales going forward.
The Prince and Princess of Wales's Instagram account boasts a whopping 14.9 million followers, with royal fans being given updates from Kensington Palace as Kate and William take on their roles as key members of The Firm.
And lately, royal fans haven't been able to help noticing a big improvement in the couple's social media feed, with ultra professional footage in the form of Instagram Reels and special family photos gracing their grid.
Amongst incredibly detailed videos of events such as King Charles's coronation day and the Wales family's official engagement helping out with the Scouts, which saw Kate reveal Prince Louis's sweet family nickname, royal fans flooded the comment section with words of praise over the new online content.
One fan wrote, "May you never end this BTS footage. Great job KP social team! 👏🏻"
"Whoever is making the reels give them a raise," another commented, while another agreed, "May I just say, you always do such fantastic job in all your engagements, but lately you are also doing a great job at promoting it and showing it to people via your social media accounts. Keep it up! ❤️"
"Ever since you all returned from the break, the social media team has been doing so good! Keep it up," yet another supportive commenter penned.
It would seem that Prince William and Princess Catherine have stepped up their social media game since taking on their new roles as the Prince and Princess of Wales and figureheads of King Charles's monarchy.
The new sovereign is said to be keen to forge a monarchy that aligns with the modern values of the world today and the Waleses look like they're nailing that goal when it comes to the world of modern day social media.