Prince William and Harry's 'very emotional' conversation after Princess Diana's death
An investigator who spoke to Prince William and Harry after Princess Diana's death has shared details of the 'emotional' conversation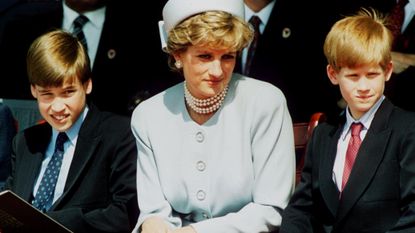 (Image credit: Getty Images)
The "very emotional" conversation had between Prince William, Prince Harry and an investigator looking into the death of their mother, Princess Diana, has been revealed.
Lord John Stevens, an investigator who worked looking into the car crash that killed Princess Diana in 1997, has shared details of a heartbreaking conversation he had with Prince Harry and Prince William after the incident.
The late Princess of Wales was killed in the car accident in Paris when she was just 36, leaving behind sons William and Harry.
---
Speaking to US Weekly in light of the release of The Diana Investigations docuseries on Discovery+, Lord John Stevens recounted the chat he had with young Prince William and Harry after the tragic death of their mother in 1997.
Sharing details of the "very emotional" conversation he revealed that he spoke to the young princes for over an hour about the heartbreaking news at their home in Kensington Palace.
"So, I went along with two other people who were part of the investigation, detective inspector, and outside the door [at Kensington Palace], it was said 'No, they only want to see you,' that's me."
He added, "I outlined what the conclusions were for about 10 or 15 minutes, and then the rest of the time was them asking me questions, which you'd expect because they didn't know the circumstances of their mother's death, where, when she'd died, what did she say and, beyond that, I don't want to declare what the conversations were."
Lord Stevens also shared details of Harry and William's anger over their feelings that the paparazzi had been to blame for Diana's accident.
"What they were angry about, they declared it publicly, were the paparazzi who they thought were very much behind what had taken place by chasing the car and making the car or inducing the car to go at 75 miles an hour.
"They weren't too happy about that, I can tell you," he added.