Prince Louis more confident and fearless than Prince George and Princess Charlotte
Prince Louis' may have only just turned five but his body language shows he is already displaying a bold character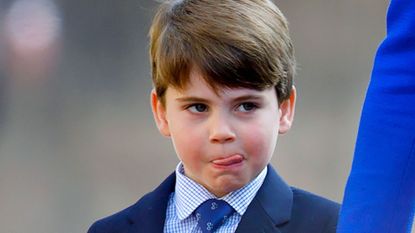 (Image credit: Max Mumby/Indigo/Getty Images)
Prince Louis appears to be more confident, fearless, and playful than his older siblings, Prince George, and Princess Charlotte, according to a body language expert.
Prince Louis may be the youngest member of the Wales family but his body language shows that he is by no means the smallest character.
A body language expert has revealed that in terms of Louis' 'confidence, fearlessness, and spontaneous playfulness he's currently lapping his two older siblings.'
---
Prince Louis, the youngest Wales sibling behind his sister Princess Charlotte and brother Prince George, celebrated his fifth birthday yesterday with a 'family-orientated' and 'fun adventure-themed birthday party with all his school friends,' as reported by US Weekly.
But while the Prince may be the youngest of three, a body language expert has claimed that he is 'lapping his two older siblings' in terms of 'confidence, fearlessness, and playfulness.'
Speaking to The Express, Judi James, who has analyzed Louis' body language at a number of his recent public appearances, explained, "Louis might be the baby of the family but when it comes to body language signals of confidence, fearlessness, and spontaneous playfulness he's currently lapping his two older siblings."
"The bonds between George, Charlotte, and Louis are clearly strong and the glimpses we've had of their behaviors with each other suggest a developing pattern of child/parent mirroring from both George and Charlotte, with Louis benefiting from the best of both worlds."
The expert added, "While George is clearly a mini-me version of his dad, Charlotte seems closely paired to her mother in terms of behavior. This means Louis has two pairs of parental responses and influences in his life."
Witnessing the three Wales children and their public interactions, James speculates that both George and Charlotte have picked up on how their parents, Kate Middleton and Prince William, chose to parent Louis and even muck in themselves to ensure he is on his best behavior.
"At the Platinum Pageant, it was Kate taking prime responsibility for keeping her son entertained and well behaved but Charlotte was also seen pushing his fingers away from his mouth at one point and feeding back to her mother what had just happened."
"As Kate and Charlotte nodded in agreement and looked back at the parade, Louis hilariously mimed stuffing his fingers back into his mouth but without actually doing so, which hinted Charlotte is quite a strong influence on his behavior."
"George seems to have adopted his father's trait of rewarding Louis for his good behavior," she told The Express. "Like William, he is now seen placing a steering and affectionate hand on his small brother's back when they are at royal events."
"The age gap between the siblings isn't big, but it is big enough to create a slightly grown-up and caring approach to Louis that in turn probably allows him to feel secure and confident."
The three-sibling dynamic is unusual in the Royal Family, as James explains, "The late Queen's children all had two children of their own and even Charles and Anne were brought up as a duo. With Andrew being born 10 years after Anne and Edward four years later, this meant Charles and Anne were quite adult while their younger siblings were still children."
However, this difference does not necessarily spell despair for the family, quite the opposite in fact. James told The Express, "His [Louis'] presence in the family might prove with time to be beneficial to George. Charles might have been fond of his sister Anne but he was eclipsed by her stoic confidence and the pair were said to have been competitive."
"William and Harry's competitiveness might well have contributed to their rift, but with a third sibling that is close in age the intensity of the relationship of a future monarch and their closest sibling or 'spare' might happily be diluted."
Charlie Elizabeth Culverhouse is royal news and entertainment writer. She began her freelance journalism career after graduating from Nottingham Trent University with an MA in Magazine Journalism, receiving an NCTJ diploma, and earning a First Class BA (Hons) in Journalism at the British and Irish Modern Music Institute. She has also worked with Good To, BBC Good Food and The Independent.