Prince Harry shares sweet news about daughter Lilibet reaching a new milestone
Prince Harry has given an update on his one-year-old daughter Lilibet during a video call, revealing that she's reached a key milestone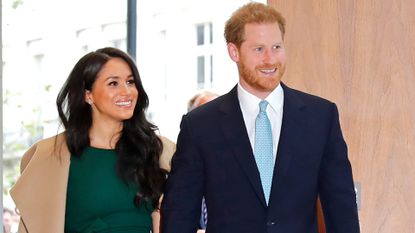 (Image credit: Getty)
Prince Harry has opened up about his one-year-old daughter Lilibet in a video call, sharing the latest milestone his youngest child has reached recently.
---
Harry, who has been a patron of WellChild since 2007, called Henry to congratulate him on winning the Inspirational Child Award in the four to seven-year-old category. During the call from his California home, Prince Harry spoke to Henry and his parents, Shevonne and Ben.
And when Henry asked how Archie and Lilibet are doing, Harry shared, "They're doing great. Archie is very, very busy, and Lily is learning to use her voice."
He added, "You sound just like my son Archie, really. The same squeaky voice. I love it."
The Prince also told little Henry that his real name was in fact Henry too, saying: "My name's Henry as well. But everyone calls me Harry. I have no idea why."
Harry was due to attend the WellChild Awards last month on September 8, but cancelled following the death of his grandmother, Queen Elizabeth. Harry instead travelled to Balmoral, where the Queen passed away, to be with his family. But last week, he spoke to the winners via Zoom.
Following the call, Prince Harry was praised for his 'kindness and sweetness.' Henry's mum Shevonne said, "We fully understood why the event was cancelled – it was out of respect at an unprecedented time. We understood the gravity of the situation."
She added, "We spent a few minutes chatting. It was just lovely. Considering what has happened – he's recently lost his grandmother – he still made time to see us and make contact. No one can understand the impact of things on him and his family.
"Everything is done with so much publicity. But hats off to him for putting that to one side. He gave us a really big welcome and said sorry that we didn't meet. He was nice, kind and gentle. He was wonderful. He responded to everything Henry said - that was really sweet."
Robyn is a celebrity and entertainment journalist and editor with over eight years experience in the industry. As well as contributing regular to woman&home, she also often writes for Woman, Woman's Own, Woman's Weekly and The Sun.