The Duke and Duchess of Sussex pay sweet tribute to Princess Diana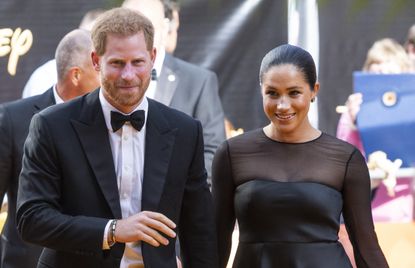 The Duke and Duchess of Sussex have paid a sweet tribute to Princess Diana via their Instagram account.
This weekend, Prince Harry and Meghan Markle posted one of Diana's quotes about kindness as part of a regular series of inspirational posts.
"Carry out a random act of kindness, with no expectation of reward, safe in the knowledge that one day someone might do the same for you," the quote read.
In the caption, shared with their 9.3 million Instagram followers, they added, "Words have the power to inspire, which is why we're happy to share some of our favourite quotes. From members of the public to public figures, from teachers and students to young leaders, we begin with a quote from Diana, Princess of Wales."
Delighted royal fans were quick to praise the post, with one writing, "Harry is definitely Diana's son."
MORE:Duchess Meghan's Marks & Spencer black dress is back in stock
A second wrote, "She was an amazing person. It is wonderful to see her legacy carried forward."
"She was and always will be admired, loved and so missed," said a third. "This is one of my favourite quotes. Thanks for sharing these and all those to come as they will inspire everyone."
It's not the first time the Duke and Duchess of Sussex have paid tribute to the late Princess via their Instagram account.In June, the pair shared a photograph of Harry's late mother as they highlighted the first day of Pride Month.
MORE:Sarah Ferguson makes exciting announcement ahead of Princess Beatrice's birthday
The royal pair shone a light on her work as a prolific advocate in changing the stigma around AIDS and HIV by sharing the photograph of Diana talking with patient Gerard McGrath at London Lighthouse in 1996, shortly before her death.
The centre cared exclusively for patients diagnosed with HIV and AIDS, which at the time many believed could be passed through physical touch.
It was part of the pair's monthly tradition to promote social media accounts which they follow based on causes and social issues that matter to them.