The Duke and Duchess of Sussex pledge their support for 'compassion' not 'hate' online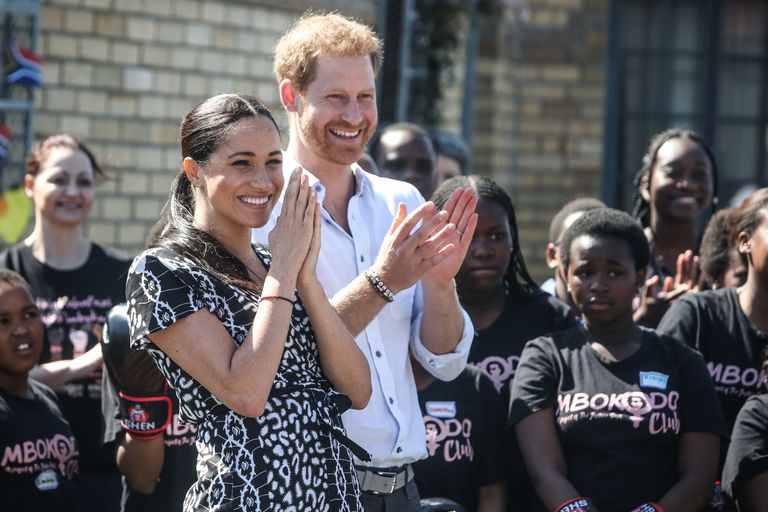 (Image credit: AFP via Getty Images)
Prince Harry and Meghan Markle have announced their support for Stop Hate For Profit - a campaign against hateful content on social media sites.
In the wake of George Floyd's death, the Duke and Duchess of Sussex are supporting a campaign calling to stop online hate speech.
Prince Harry and Meghan Markle are working closely with the leaders of the Stop Hate For Profit campaign - including NAACP, Colour of Change, and Anti-Defamation League.
All of whom are campaigning to boycott Facebook's advertising after the social media site reportedly failed to stop the spread of hateful content.
READ MORE: Prince Harry and Meghan Markle finally reveal their next move
Confirming the royal couple's involvement with the cause, a spokesperson for NAACP tweeted, "We are grateful for the leadership of the Duke and Duchess of Sussex in recognising the importance of solidarity in this moment. Your commitment to truth, justice, and equality are appreciated."
According to Hello, an insider revealed Meghan, 38, and Harry, 35, are keen to continue their work towards ensuring mental health is at the forefront of social media.
They said, "The Duke and Duchess of Sussex have been working on how to move the tech industry in a more humane direction – this includes their longstanding advocacy for supporting mental health in the social media era, was a key focus of a visit they convened at Stanford University back in February, and is also fundamentally connected to what they are building into their new organisation Archewell."
READ MORE: New blow for the Sussexes as charity plans are rejected
The couple believe there is a need for online spaces to be "defined more by compassion than hate, by truth instead of misinformation; by equity and inclusiveness".
It comes just weeks after Duchess Meghan broke her silence on the Black Lives Matter movement and the riots taking place over in the USA, following the tragic death of George Floyd.
In a video that was shared with online Black lifestyle magazine Essence, the Duchess addressed graduating students from her former high school Immaculate Heart in Los Angeles.
She explained to students that for the past few weeks she had been planning on speaking to them (virtually) on the day of their graduation and went on to address the "absolutely devastating" events taking part throughout the USA and especially in the Duchess's and students' home town of LA.
Duchess Meghan started the speech by admitting that she wasn't sure what she could say to the students, adding, "I wanted to say the right thing and I was really nervous that I wouldn't or that it would get picked apart.
"And I realised that the only wrong thing to say is to say nothing."
Georgia studied Print Journalism at university in Nottingham, England before going on to work on several leading celebrity magazines, as well as freelance writing for international magazine Grazia Middle East. An enthusiastic, hard-working and ambitious writer, Georgia recently launched her own communications consultancy, farq media. As Director and Founder, Georgia helps businesses with their Public Relations strategy, as well as influencer and celebrity marketing. She also represents several influencers of her own. She lives with this motto in mind; "if your dreams don't scare you, they aren't big enough."