Prince Harry's adorable gesture for Meghan on their royal tour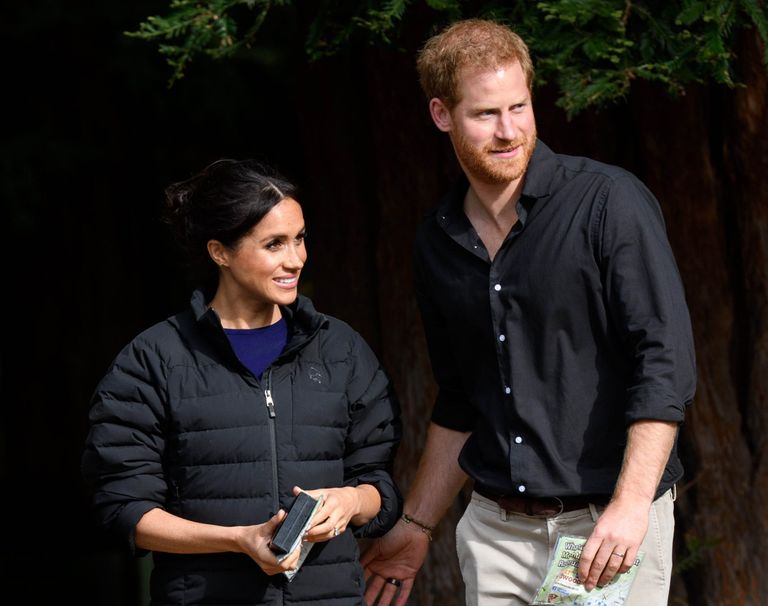 By Amy Hunt
Prince Harry and Meghan Markle aren't ones to hide their affection when they're out and about.
The royal couple are pretty demonstrative when it comes to interacting with each other - and are rarely seen without holding hands, linking arms, or smiling fondly up at each other.
And during the Duke and Duchess of Sussex's royal tour of New Zealand, the pair shared another super-sweet moment that only some very eagle-eyed royal fans picked up on.
As Harry and Meghan toured the Redwoods Treewalk in Rotorua, some people noticed that the Duchess was actually wearing one of her husband's coats - presumably to hide from the cold of the shaded wooded area.
The Duke of Sussex had first worn the puffer jacket a few days before, when he and his wife took a walk around the Abel Tasman National Park, a wilderness reserve on New Zealand's South Island.
Royal fans were delighted by the adorable display of protectiveness from Prince Harry, commenting to share what a sweet gesture it was on social media.
One said, 'They are the cutest royal couple we have ever seen !'
While another wrote, 'They are always adorable ❤️😍'. A third fan also commented, 'That is so sweet for some reason ❤️❤️❤️'.
The couples's visit to the Redwoods forest marked one of the final engagements on their 16-day royal tour through Australia, Fiji, Tonga and New Zealand.
Harry and Meghan completed around a whopping 76 engagements, with the Duchess only missing out on a couple due to her recently-announced pregnancy, and of course, the inevitable jetlag.
It's reported that the Duke and Duchess will return to their Kensington Palace home in London today (1st November), before returning to royal duties back in the UK.
At the moment, the couple have no future engagements planned - but we're sure that now their mammoth autumn tour is over, they'll be busy preparing more royal work for the winter.