Prince George, Princess Charlotte and Prince Louis' roles at King Charles' coronation revealed
Prince George, Princess Charlotte and Prince Louis will be playing more prominent roles at King Charles' coronation later this year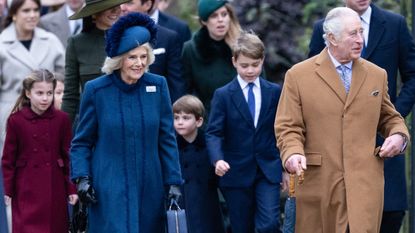 (Image credit: Getty Imaes)
Prince George, Princess Charlotte and Prince Louis will reportedly have a more prominent role in King Charles' coronation which will take place later this year.
King Charles III's coronation will take place on Saturday 6 May 2023 at Westminster Abbey in London.
Prince George, Princess Charlotte and Prince Louis are said to feature 'more prominently' than other royals.
After details of King Charles' coronation were released by Buckingham Palace earlier this month, royals fans have been wondering what part the youngest royals will have.
The coronation will be held at Westminster Abbey on May 6, with a procession leading all the way from the palace.
And it's thought that we will first see Prince William and Princess Kate's eldest children, Prince George and Princess Charlotte, watching the coronation take place.
It's still unclear whether Prince Louis, four, is considered too young to take part in the formal event, however he is thought to be attending the big concert with his family on Saturday.

According to a royal author, the Prince and Princess of Wales and their children are expected to be featured "more prominently" than other members of the family.
Commentator Katie Nicholl claimed in an adapted extract from her new book, New Royals: Queen Elizabeth's Legacy and the Future of the Crown, it will 'highlight' the line of succession.
An extract from her book published by Vanity Fair reads, "As the world comes to terms with the death of Queen Elizabeth II, attention will soon turn to King Charles's coronation, which is expected to take place in the spring or early summer.
"So what do we know of the plans, reportedly code-named Operation Golden Orb?

"Well, his coronation is expected to be shorter and less expensive than his mother's, and the new king wants the public to witness the experience just as they did his accession.
"The ceremony will likely highlight the line of succession, with William, Kate, and their children featured more prominently than other members of the family."
Meanwhile, the coronation will be a three-day spectacle, kicking off with two grand processions and a religious service.
The King's Procession will start at Buckingham Palace and make its way to Westminster Abbey for the coronation.
After the service, King Charles and Queen Camilla will lead the larger coronation procession to Buckingham Palace, where they will then all appear on the iconic balcony.
The following day, the Coronation Concert will be broadcast live from Windsor Castle which will feature "global music icons and contemporary stars."
On Monday, May 8, there will then be a bank holiday in the UK, announced by Prime Minister Rishi Sunak in November.
Naomi is a news and lifestyle journalist and digital content creator with bylines in The Independent, The Sun, Cosmopolitan, and Fabulous. She covers a range of topics and currently works at Heart Radio in London.