Prince Charles leaves Leonardo DiCaprio 'fangirling' in exciting reunion at COP26
Prince Charles had quite an effect on Leonardo DiCaprio during their impromptu meeting at COP26 on Wednesday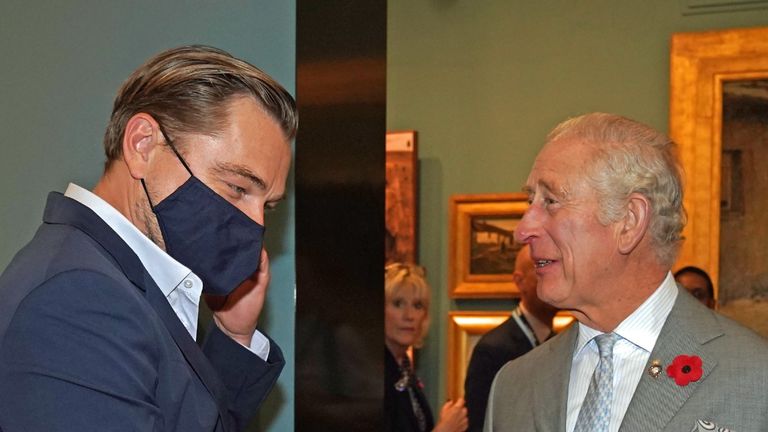 (Image credit: Getty)
By Emma Dooney
Leonardo DiCaprio appears to have been left starstruck by his meeting with Prince Charles at COP26, having not seen the royal heir in over twenty years.
Leonardo DiCaprio's 'fangirling' reaction to Prince Charles at a COP26 event on Wednesday has delighted royal fans.
The Hollywood actor appeared overwhelmed by his meeting with the Prince of Wales, with whom he shares a strong passion for environmental causes.
---
Prince Charles caught up with Leonardo DiCaprio at a special COP26 event on Wednesday—and it looks like the royal heir made quite the impression.
The two eco-warriors appeared excited to see each other at the Kelvingrove Art Gallery in Glasgow, shaking hands and chatting amicably during their tour of designer Stella McCartney's sustainability exhibition, the 'Future of Fashion'.
While the nature of their conversation remains unclear, it's likely they exchanged a few words on their shared passion for the environment.
Prince Charles echoed his previous sentiments on the need for climate action in his powerful speech at the opening ceremony of COP26, calling for a 'war-like response to the climate emergency. Leonardo has also been a longtime environmental campaigner, supporting over 35 innovative conservation projects around the globe and regularly speaking up about the worrying state of our planet.
The two men seemed to be deep in discussion at one point of their interaction, with Leonardo listening calmly as the future King voiced his thoughts.
It appears the Shutter Island star couldn't fully hide his awe of the Prince, however, with one particular image revealing just how happy he felt during the encounter.
Photos of the pair posted on Clarence House's Instagram showed Leonardo looking uncharacteristically joyful, prompting royal fans to suggest he'd been left a tad overwhelmed by Charles' presence.
"Love Leo's face here. He looks like the one who's star struck!" one person wrote.
"Leo is fangirling," another follower wrote.
Others joked that the Oscar-winner appeared to be intruding on Prince Charles' conversation with Stella, with one follower commenting, "Is Leonardo crashing the party 🍹🍹🍹."
While Prince Charles may have described the encounter as an 'introduction' on his Instagram, it wasn't actually the first time the two VIPs met.
Leonardo and Prince Charles' relationship dates back to 1997 when the rising Hollywood star was congratulated by the Prince of Wales at the royal premiere of Titanic in London. They bumped into each other again the following year at the UK premiere of The Man in the Iron Mask, in which Leo played Philippe Bourbon/King Louis XIV.