Pippa Middleton's way of 'managing her weight' since becoming 'hands-on' mom
Pippa Middleton revealed how she 'manages' her weight since becoming a mother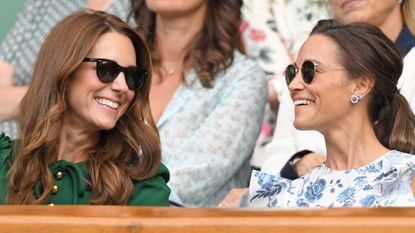 (Image credit: Getty Images)
Pippa Middleton's says the way 'manages' her weight since becoming a busy mom is a little different to how she kept fit prior to motherhood.
---
After tying the knot with professional racing driver and hedge fund manager, James Matthews, in May 2017, the pair went on to welcome their first child, Arthur, in October 2018.
Pippa and James then became parents for a second time when daughter Grace was born in March 2021, followed by baby Rose in July 2022.
Pippa, whose mother Carole Middleton relies on 'flexible' eating habits to stay in shape at 68, opened up about how her love of running and working out had to become a second priority when she welcomed her little ones - but that doesn't mean that keeping fit took a backseat entirely.
Speaking to activewear brand Hoka in 2021, Pippa admitted, "Family life and motherhood has consumed much of my spare time.
"Running and fitness still form part of my weekly routine but not to the level it was before," she added.
Explaining that running after her tots means she can maintain her figure despite not having the same amount of time to dedicate to running and workouts, Pippa added, "I suppose, my running has been more after babies and toddlers than crossing finish lines, which I'm fine with.
"Being active with son in the park or playground, transporting him on the back of my bike, and buggy running when he was a baby have been ways in which I have been able to include outdoor exercise whilst being a hands-on mummy."
Pippa, who also sticks to a nutritious diet packed with protein and healthy fats, went on to say, "It's helped manage my weight, is time efficient and gives us both the chance to enjoy the fresh air and explore the great outdoors."
Chatting all about what she eats to The i, Pippa revealed she's a big fan of boiled eggs, "lots of porridge" and nutrient-dense avocados when it comes to breakfast options.
"My usual breakfast is either plain yoghurt with chopped fruit and toasted seeds, oats and nuts or toasted rye bread with eggs or avocado," she continued, telling the publication that she also loves "bircher muesli with fresh berries on top".