Meghan pays sweet tribute to Princess Diana at Cirque de Soleil charity event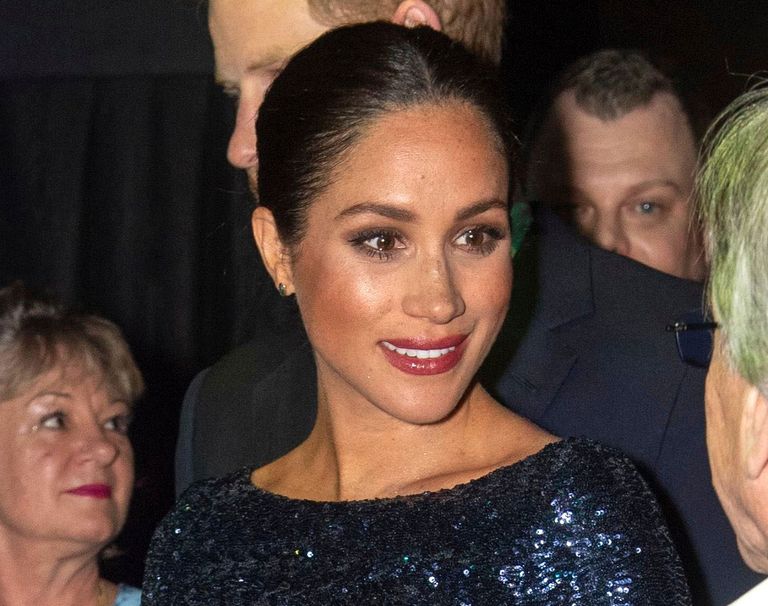 (Image credit: Paul Grover/REX/Shutterstock)
By Amy Hunt
Although Duchess Meghan never met her late mother-in-law, Princess Diana, it seem she's as keen as her husband to keep her memory alive.
Last night, the Duchess of Sussex and Prince Harry attended a charity performance of Cirque de Soleil: Totem, as the event was raising money for the Duke's own charity, Sentebale.
And while Meghan opted for a show-stopping, glittering £3,800 Rouland Mouret gown for the festivities, it was her subtle gold jewellery that caught our eye.
The Duchess was wearing an elegant, gold clutch bracelet, which actually used to belong to Princess Diana. It was a fitting tribute to Diana on a special night - given that Harry's Sentebale charity supports vulnerable children affected by HIV/AIDS in Lesotho and Botswana.
Of course, the late Princess herself was a huge advocate for those suffering from HIV/AIDS - so it was a sweet gesture from Meghan, to include her memory in a night dedicated to the cause.
And it's not the first time Meghan has worn the bracelet either. She also accessorised with it on the first day of hers and Harry's royal tour of Australia - the same day they announced her pregnancy.
The Cirque de Soleil event rounded off a busy day for the Duchess of Sussex yesterday. Just hours before, Meghan paid a visit to one of her newly announced patronages, Mayhew, an animal rescue centre.
Whilst there, she fell in love with an adorable Jack Russell pup named Minnie, but confessed she couldn't take him home. She said, "We can't take another dog before the baby... our hands are too full!"
Meghan and Harry already share a puppy together, and she also has a dog Guy, who she rescued before she met her future husband.
She dressed in an all-cream ensemble for the afternoon trip, wearing a rare high-street buy. The Duchess of Sussex paired a cashmere Armani coat, with a very affordable jumper dress from H&M - on sale for just £24.99!
But if you were hoping to get your hands on it, you'll be disappointed as it's now sold out - no surprise, given the Meghan-effect.
Never fear - we're sure the Duchess will step out in another affordable piece soon enough.