Meghan and Harry could lose their royal titles after sensational Oprah interview
Meghan and Harry have already given up their royal duties - but could they lose their royal titles too?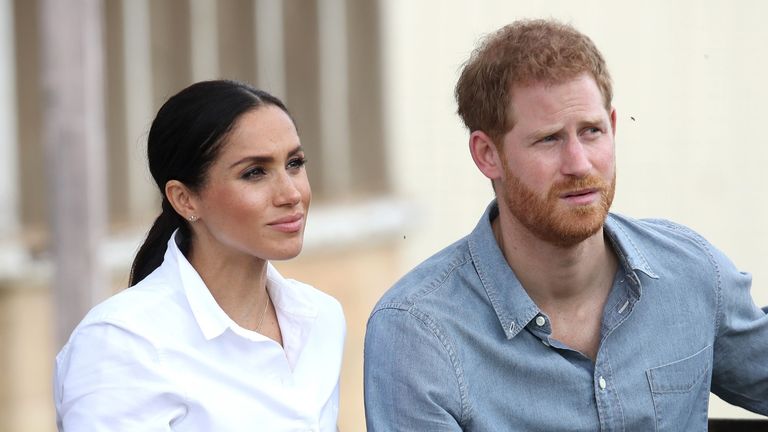 (Image credit: Chris Jackson - Pool/Getty Images)
By Sarah Finley
Meghan Markle and Prince Harry could lose their Duke and Duchess titles, following Oprah's interview.
· In February the couple confirmed they would no longer be working royals.
· However, a source has now suggested the royals could also lose their titles as Duke and Duchess.
· The Oprah interview aired last night in the US and will air tonight in the UK. This is how you can watch it.
· In other royal news, Meghan Markle's heartbreaking 'one regret' after leaving the Royal Family revealed.
Royal aides have said that the Duke and Duchess could lose their titles after revealing all about their time working within the Royal family.
When the couple confirmed this year that they would no longer be carrying out royal duties they had said they wanted to live as private citizens in California.
However, the Oprah interview last night could go against the arrangement that they made with the palace, with a source telling The Times, "There were talks at the Palace looking at how you strip him of his dukedom. It has never been done before but there are people who think it is both feasible and desirable."
Last night CBS aired the no-holds-barred interview with the Duke and Duchess of Sussex, who talked about the mental health impacts of constant press intrusion, as well as being part of the royal family. The Duchess of Sussex's mental health suffered so much during this period, Meghan considered taking her own life.
The interview, which was filmed last month in the couple's Santa Barbara mansion for Oprah's new show has raised many questions over the treatment of Meghan and Harry, including a shocking comment about Archie that shocked host Oprah.
However, both the Queen and Prince Charles have said that they won't be watching the interview as they have more important things to concentrate on.
The couple, who moved to California last February, with their son Archie, have picked up a multi-million dollar Netflix contract and this February confirmed that they would no longer be working royals.