Lip reader reveals King Charles calling this part of the coronation 'boring'
Although the coronation was a historical and momentous day for the Royal Family, it appears Charles found this one part to be a bit uninteresting...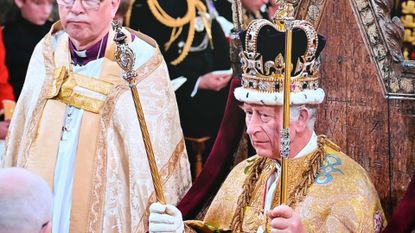 (Image credit: Getty )
A lip reader recently revealed that King Charles called this one part of the coronation "boring."
King Charles supposedly said, "we can never be on time" at the start of the coronation ceremony, a lip reader has claimed.
One would assume that King Charles and Queen Camilla (who had a secret detail in her coronation dress) would be quite excited about the coronation, seeing as it was the first one in over 70 years. And although the King, for the most part, appeared to be all smiles for most of the momentous day, he supposedly grumbled the above statement before arriving at the ceremony.
According to The Guardian, the lip reader revealed the monarch also said, "there's always something."
These statements came because the King and Queen Camilla had arrived at Westminster Abbey for the ceremony early, so the couple was forced to wait in their diamond jubilee carriage. The lip reader revealed that Charles said the following in the carriage while with Camilla, "We can never be on time. Yes I'm … This is a negative. There's always something … This is boring."
Prince William, Princess Kate, and their three children George, Charlotte, and Louis reportedly arrived later than expected and then had to walk in with Charles during his procession instead of before him as they were meant to.
William and Kate were specifically called to arrive at exactly 10.45am, and King Charles was to arrive at 10.53am. Instead, Charles and Camilla arrived early, while Kate and company arrived later - making their entrance times overlap. However, it ended up being a nice family moment, despite the fact it was not intentional.
Although the whole of the coronation went smoothly and it proved to be a lovely day (besides the downpouring of rain), Dr. Guli Francis-Dehqani, the bishop of Chelmsford, said that there were a few "hiccups."
"There were one or two things that didn't go strictly to plan," she said. "I'm not going to embarrass anyone in particular."
She likely is referencing the archbishop slightly struggling to place the crown on King Charles' head. In an effort to help the crown stay on, he gave it a little twist after he placed it atop Charles' head - and it stayed on for the remainder of the day, even into the flyover balcony appearance.
Despite any small details that may have gone awry, Charles expressed hit gratitude to those who made the day a success in a statement from Buckingham Palace. "As the Coronation weekend draws to a close, my wife and I just wanted to share our most sincere and heartfelt thanks to all those who have helped to make this such a special occasion," he said.
Madeline Merinuk is woman&home's US lifestyle news writer. She covers celebrity, entertainment, fashion, and beauty news but is also obsessed with internet trends - you can find her reciting trending TikTok sounds out loud at any given time.
After winning multiple student journalism awards for her investigative work, she graduated from Hofstra University in 2021 with a B.A. in Journalism. After graduating, she worked at today.com, the digital site for the Today Show, where she wrote pop culture news and interviewed big-name personalities like Emily Ratajkowski, Haley Lu Richardson, Emma Corrin, and more.
Her personal interests, in no particular order, are: cheese, Joni Mitchell, reading, hot yoga, traveling, having multiple chapsticks in every handbag at all times, and dancing to ABBA songs as if she were in the Mamma Mia movies.