King Charles and Queen Camilla's welcoming nod to the Middleton family in coronation invitation
The King and Queen released their coronation invites earlier this month, which included a tribute to Princess Catherine's family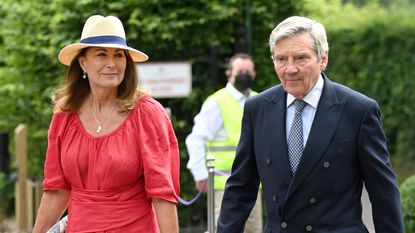 (Image credit: Getty Images)
King Charles and Queen Camilla may have given a subtle nod to the Middletons in their beautiful coronation invite which was released last week.
With just one month until the coronation of King Charles and Queen Camilla, Buckingham Palace has released the official invitation.
The beautiful design was created by illustrator Andrew Jamieson, and there are number of symbolic images around the edge.
One of these is acorns, which could be a tribute to Princess Catherine's family as they predominantly feature in the Middleton's family coat of arms.
The Middletons received a coat of arms in 2011 before the Princess of Wales' wedding to Prince William.

Creating the design with the College of Arms, the three acorns represent Carole and Michael's three children – Kate, Pippa and James.
The acorns themselves were chosen because the children were brought up in West Berkshire which is surrounded by oak trees.
They are also used to represent the English Oak which is a symbol of strength and longevity.
Meanwhile, the gold chevron in the centre is said to represent Carole, whose maiden name is Goldsmith.

Elsewhere on the coronation invite, there is foliage decorated with lily of the valley.
This is a nod to the late Queen Elizabeth, as it was the flower featured in her coronation bouquet back in 1953 and was one of her favourites.
There's also wren and a robin on top of the letter C, which points to the couple's shared initial.
Reflecting the King's years of environmental campaigning, the artwork uses the folklore figure of the "green man", with features made from ivy, hawthorn and oak leaves.
According to Buckingham Palace it is a symbol of 'spring and rebirth which celebrates a new reign'.
This comes after it was revealed the roles have been given to children of friends and relations, with eight "pages of honour" taking part in the ceremony.
This includes Prince George, and three of the Queen's grandchildren, Gus and Louis Lopes, Freddy Parker Bowles and her great-nephew Arthur Elliot.
Naomi is a news and lifestyle journalist and digital content creator with bylines in The Independent, The Sun, Cosmopolitan, and Fabulous. She covers a range of topics and currently works at Heart Radio in London.