King Charles subtly tributes Queen Elizabeth with special coronation guests
King Charles has recognised the amazing work his mother, Queen Elizabeth did for charities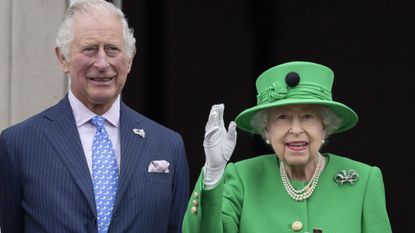 (Image credit: Getty Imahes)
The King and Queen have invited 400 young people to attend their coronation on May 6, which is a sweet nod to the late Queen Elizabeth.
King Charles and Queen Camilla have invited young people from charitable organisations to be a part of their coronation service.
The guests include those involved with The Prince's Trust, The Prince's Foundation, Barnardo's and The National Literacy Trust.
This royal news comes after fans noticed a sweet bonding moment between Princess Catherine and her daughter Charlotte during the Easter Sunday service.
The coronation is just weeks away now, with King Charles and Queen Camilla set to be crowned in front of millions of people.
But while most of us will be enjoying the service from home, the royals have invited 400 young people to watch the procession on May 6.
Having been nominated by the UK Government for their contribution to coronation day, the lucky guests will get to watch the ceremony from St Margaret's Church at Westminster Abbey.
These include 200 young people involved with The Prince's Trust, The Prince's Foundation, Barnardo's, The National Literacy Trust and Ebony Horse Club.

There will then be another 200 inspiring young people from the Scout Association, Girlguiding UK, St John Ambulance and the National Citizen Service, with these organizations providing stewarding, route lining and first aid services on 6 May across London.
The guests are a nod to his late mother Queen Elizabeth, who was the former royal patron of the Scout Association, Girlguiding UK and Barnardo's.
There will also be hundreds more community and charity representatives in attendance who were nominated by the King and Queen themselves.
Max Woosey, 13, is one of the guests who raised more than £750,000 for North Devon Hospice by camping in his garden for three years.
Max first pitched his tent in March 2020 to raise £100 after his neighbour and friend Rick Abbot died of cancer in February 2020.
Max went on to win a Guinness World Record for the biggest sum raised by camping, with the proceeds paying for 16 community nurses in north Devon.
This earned him an invite to the historic event next month, as well as British Empire Medal (BEM) recipient Dawn Wood, a constable with Essex Police's marine unit.
In February 2019, she became the second fastest woman to row solo across the Atlantic traveling 3,000 miles from the Canary Islands to Barbados in 51 days.
Retired firefighter and grandfather John Anderson, 72, has also been invited after he helped set up a call center where people with COVID could get in touch for a food parcel and have it delivered to their home.
Naomi is a news and lifestyle journalist and digital content creator with bylines in The Independent, The Sun, Cosmopolitan, and Fabulous. She covers a range of topics and currently works at Heart Radio in London.