Kate Middleton just shared the most adorable info about George, Charlotte and Louis being 'tiny babies'
Kate Middleton reminisced on the Cambridge children being babies as she headed out for work this week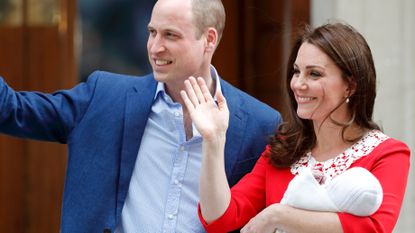 (Image credit: Getty Images)
Kate Middleton shared some lovely details about when Prince George, Princess Charlotte and Prince Louis were 'tiny babies' when she stepped out for a day at work this week.
Kate reminisced on being a mom to tiny tots during a visit to the Little Village hub in Brent.
The organization is a baby bank that helps provide parents in need with essentials for raising little ones and the Duchess met with plenty of staff, mums and little ones during her visit.
---
As Kate met with a mom called Sara during the day at Little Village Hub, the Duchess highlighted just how much time with her kids has flown, cooing over Sara's 18-month-old and three-month-old babies.
"You forget how tiny they are! I remember those days. It's a busy time but so wonderful," she exclaimed.
Kate, who looked chic in a £50 Zara blazer, also revealed that We're Going On A Bear Hunt is a beloved book in the Cambridge household, as she recommended the story to Sara for her own children.
And it was a pair of little baby booties that had the Duchess feeling super nostalgic for when her youngest son, Prince Louis, was a newborn.
Prince Louis' best Jubilee moments provided some serious entertainment for the world last weekend.
As Kate noticed the little boots, she revealed that Louis, who marked his fourth birthday in April, had a pair just the same.
She said,"Oh, Louis had a pair like this! I can't believe how tiny they are, he's such a big boy now!"