Kate Middleton and Prince William could make huge change to George and Charlotte's lives to save Queen from 'solitude'
Kate Middleton and Prince William's potential move has both pros and cons for the Cambridge family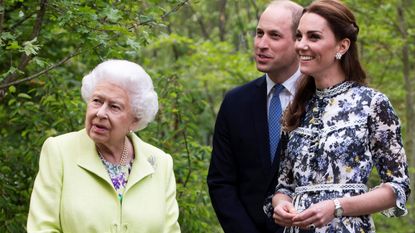 (Image credit: GEOFF PUGH/AFP via Getty Images)
Kate Middleton and Prince William are predicted to be considering a huge change to their royal lifestyle in order to help the Queen stave off loneliness now that she no longer has Prince Philip.
Kate Middleton and Prince William are expected to be thinking about moving away from their Kensington Palace home in London to join the Queen nearby to Windsor Castle, according to a royal expert.
Kate and William would have to make alterations to their children's lives to help Her Majesty in her "state of solitude"—but there's more than one positive in moving to Windsor.
This royal news comes after it was revealed that Prince William left Kate "in tears" after ditching Christmas plans when they were a young couple.
---
With Prince George and Princess Charlotte settled into schooling life at the £18,915-per-year Thomas' Battersea Prep School in London and Prince Louis enrolled in nursery, a move from Kensington Palace to Windsor could mean big disruption for the young Cambridge kids.
However, a royal insider has highlighted rumors that Prince William has hopes to move his family near to his grandmother, in order to support her in her hour of need and to be more involved in royal decision making in the years before he or Prince Charles takes the throne.
With the Queen in the midst of her first year without Prince Philip, it's believed that her close family are doing their bit to make sure she doesn't spend too much time alone.
Along with losing her husband of 73 years, Her Majesty has also suffered a string of health woes lately, having to cancel various royal engagements to rest and being photographed with a walking stick for the first time in decades.
Royal expert Jonathan Sacerdoti has pointed out that William, who is famously close to his grandmother and had was trained by the Queen on how to be King over tea and cake, will be able to help her recover from her sad year by being nearby with Kate and the children.
"I think there are a number of reasons why they would want to make such a move, and absolutely proximity to the Queen is one of them.
"She's had a pretty tough year, including losing Prince Philip, and one doesn't picture the Queen alone. She's definitely going to be feeling a sense of solitude related to losing her husband, something that many people will be familiar with," he told the Express.
"If William and Kate move to be closer to her, that could certainly help in that respect, and indeed [to have] children there."
But a move to Windsor won't just mean more time with the royal side of the family, as Carole and Michael Middleton live in Bucklebury, a village also located in Windsor's county of Berkshire.
With the Queen and the Middleton parents both in Berkshire, Prince George, Princess Charlotte and Prince Louis would be able to spend plenty more time with their great-grandmother on William's side and their grandparents on Kate's side.
And with doting son Prince Charles (and grandfather to the Cambridge kids) regularly paying visits to the Queen with Duchess Camilla since Philip passed, the two families would be able to come together even closer as a result of the Queen being helped with her heartache.