New photos of the Queen using a walking stick spark praise from impressed royal fans
The Queen was photographed with a walking stick as she headed out with daughter, Princess Anne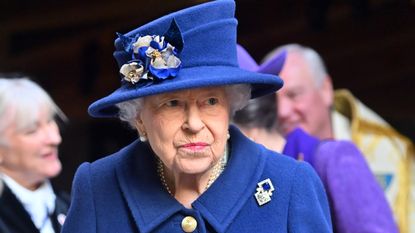 (Image credit: Getty Images)
The Queen was praised by royal fans for opting to use a walking stick for the first time in years when she headed out with Princess Anne.
---
The monarch and Princess Anne, who is famously considered the hardest working royal, teamed up to attend a special service at Westminster Abbey yesterday, in order to mark the centenary year of the Royal British Legion.
As Her Majesty arrived at the milestone event, held at Kate Middleton and Prince William's iconic wedding venue in London, she was photographed using a walking stick to support her as she stepped out of the car and walked around greeting guests.
It's thought that the Queen doesn't rely on the stick, but chose to use one on this occasion for extra support and comfort as she spent much of the visit on her feet and stepping on the uneven, cobbled ground of the Abbey.
As snaps of the Queen using her walking stick went viral online, royal fans flocked to social media to applaud her for using the help.
"Cobbled streets are a pain, and the fact she is 95 and just started using one is a testament," one wrote.
Another penned, "HM has done amazing until now God bless her. Stick looks great!"
"I'm always fearful that she's going to trip and fall. It's good to see her using a cane and a family member with her on engagements," a concerned supporter chipped in to add.
"I'm 50 years younger than Her Majesty and I'd need that walking stick on that cobblestone, too. God bless her! She's so wonderful, a woman of such grace and devotion," another penned on Twitter.
"Shows in what good shape HM is in that she is only now using one. Cobbles can be dicey," one more agreed.
"The woman is 95, it's amazing she can still walk across cobbles in heels WITH a stick," another supportive post read.
The Queen has been seen using a walking stick just a handful of times in the past but has not taken one out for a public appearance in years, until now.
When she was 77-years-old she underwent a knee operation and subsequently took a stick with her on royal duties in the months following.
She hosted her usual Christmas at Sandringham in 2003 with the royal family and attended their traditional church service with a walking stick for support on Christmas day and was photographed with a bandaged knee in the following weeks.