Prince Harry and Meghan may be returning to royal duties at the Queen's request
But only temporarily...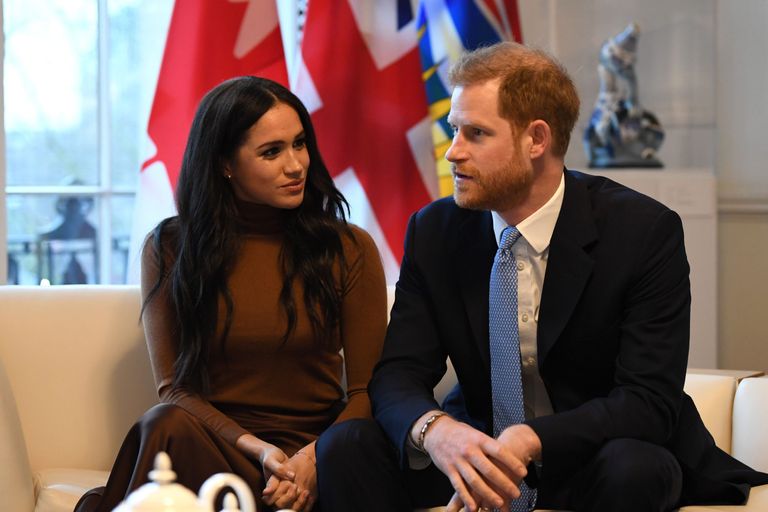 (Image credit: Getty Images)
By Amy Hunt
Prince Harry and Duchess Meghan may be making a brief return to royal duties, following their step back from their official positions within the family last month.
The Queen has reportedly requested that the Duke and Duchess of Sussex briefly return to their royal duties, for the final time.
It's said that she has asked them to attend the Commonwealth Day service next month.
In otherroyal news,the Queen will not be marking this royal tradition today, for a very relatable reason!
The Sunday Times has reported that the Queen has asked the Duke and Duchess of Sussex to attend the upcoming Commonwealth Day service, as part of their final duties as official working members of the royal family.
Meghan and Harry have been living in Canada ever since it was announced that they would no longer be full-time working royals.
But reportedly, the monarch is asking that they return briefly to the UK to attend the Commonwealth event at Westminster Abbey next month.
MORE:Jennifer Aniston wants to meet up with Meghan Markle in Canada
While the palace has not yet confirmed whether the Duke and Duchess will be attending, if they do, the event would mark one of their final duties as senior royals.
When it was announced that the couple would be 'stepping back', the Queen explained in an official statement that there would be transition period, with the "new model" not officially taking effect until the spring of 2020.
So it would make sense if the couple were to fulfil a few final royal duties, such as attending the Commonwealth service, before the spring rolls around.
Prince Harry and Meghan went along to the service last March, when the Duchess was around five/six months pregnant with baby Archie - who is now nine months old.
If the Duke and Duchess do attend this year, it would be the first time that the couple are seen alongside other members of the royal family since the news of their stepping back. It's likely that, as in previous years, the likes of Prince Charles, Duchess Camilla, the Queen and the Duke and Duchess of Cambridge will attend the service too.
It has been confirmed that Harry and Meghan attended their first public engagement since leaving the royal family in Miami a few days ago - with the Duke giving a speech about his mental health at a JP Morgan conference.