Edinburgh Wedding Bracelet: the history of the Queen's most sentimental gift, and the significant reason only one other person has worn it
The history behind the Queen's romantic Edinburgh Wedding bracelet, and why only one other person has ever worn it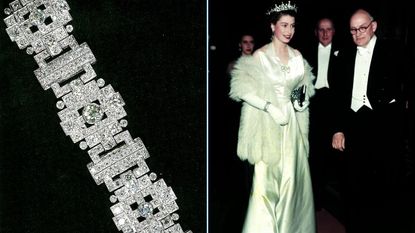 (Image credit: Popperfoto via Getty Images/Getty Images/Queen's Jewels Vault)
The Queen has many wonderful pieces of jewelry, but few have as much personal significance and sentimentality to Her Majesty than an Art Deco inspired bracelet, known as the Edinburgh Wedding bracelet. Only one other person has ever been granted permission to wear the piece.
The Queen's Edinburgh wedding bracelet is one of her most sentimental favorites, a gift made just for her by her late husband, Prince Philip
A young Philip used family heirlooms of his own – including a tiara from the Romanov empire – to create an engagement ring and wedding bracelet for his bride-to-be
---
There are few love stories as captivating, lasting and inspirational than that of the Queen and Prince Philip.
Married for nearly 74 years, their love never faltered – some say it's because he treated the Queen like any other person. In fact, Prince Philip was still "fascinated" and "charmed" by the Queen, 70 years into their marriage at the time of his death.
Knowing what lay ahead of them when he proposed marriage, Philip knew he had to give something meaningful and memorable to his bride-to-be. And he did just that with the Edinburgh Wedding bracelet.
Here we look at the history behind the heartfelt gift, and why the Queen has allowed just one other person to wear it.
What is the Edinburgh wedding bracelet?
As a roguish young man, the Lieutenant Philip Mountbatten knew he had to dazzle Princess Elizabeth.
Like many men before him, help came in the form of his mom.
Princess Alice of Battenberg offered him a grand diamond and aquamarine tiara, once gifted to her by the Romanov ruler, Emperor Nicholas II and Emperor Alexandra Feodorovna of Russia.
Alice had kept the Romanov tiara for years, long after she regularly wore gala jewels, and she handed it over to her son to have it dismantled.
Trusting the London jewelers Philip Antrobus to create both the engagement ring and the wedding present, the precious items were dismantled and used to create Princess Elizabeth's engagement ring, while others were used to make the stunning wedding gift - the Edinburgh wedding bracelet.
The bracelet was completed with three large brilliant-cut diamonds and a geometric, Art Deco inspired design. It features three large, square links connected by vertical sections. Like the engagement ring, the bracelet was set in platinum.
The beloved bracelet is worn by Her Majesty for the most special of occasions in her already-gilded life. She often wears it at white tie banquets and dinners, plus important official portraits, including one made for her Diamond Jubilee in 2012.
Who is the only other person to have worn the Edinburgh wedding bracelet?
Duchess Catherine wore the sentimental piece in 2015, while at a banquet given in honor of the President of China.
This was an important moment for both the Queen, and Kate's role within the Royal Family.
The loan was a significant one because the bracelet had never been worn in public by anyone but the Queen.
This was surely a sign that Kate had won favor with her grandmother-in-law – and the Queen was showing the world how she viewed Kate's place as a future Queen consort.
Jack Slater is not the Last Action Hero, but that's what comes up first when you Google him. Preferring a much more sedentary life, Jack gets his thrills by covering news, entertainment, celebrity, film and culture for woman&home, and other digital publications.
Having written for various print and online publications—ranging from national syndicates to niche magazines—Jack has written about nearly everything there is to write about, covering LGBTQ+ news, celebrity features, TV and film scoops, reviewing the latest theatre shows lighting up London's West End and the most pressing of SEO based stories.