The Duke and Duchess of Cambridge stun fans with rare public display of affection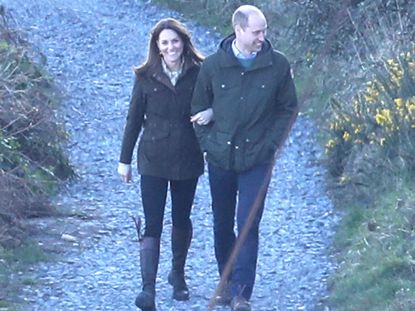 The Duke and Duchess of Cambridge have delighted royal fans with their 'sweet' moments in public which we've not seen before.
Speaking to ITV royal producer and commentator Lizzie Robinson, Omid Scobie explained how the couple treated the public to a look inside their relationship that we're 'not used to.'
Why are the Duke and Duchess being more open?
During their Republic of Ireland tour, the Duke and Duchess were a lot more affectionate than they usually are in public.
Omid said, 'We saw quite a few intimate moments between William and Kate.
'In some of the pictures that Kensington Palace were sharing on Instagram and from some of the footage coming out.
'They seem a lot more comfortable together as a couple in front cameras too.
'We got a little bit more PDA than we're usually treated to.'
While Lizzie added, 'They don't go over the top, do they?
'But there were a couple of really sweet moments, particularly on the cliff walk that they did.
'You saw them linking arms sort of in the distance from the cameras.
'As they got a little bit closer they unlinked arms.'
She added, 'Then there was a shot up on the top of the cliff with the Irish Sea in the background where they've got their arms around each other laughing at the cameras.
'So yes they really do seem comfortable doing that now in front of the cameras.
'In a way that maybe they didn't in the past.'
This comes just a day after Omid praised Kate for 'coming out of her shell.'
He said, 'It is great to see the Duchess in confident form.
'I think we have been seeing a brand new Duchess of Cambridge 2.0 in the last few months.'
We couldn't agree more!
Robyn is a celebrity and entertainment journalist and editor with over eight years experience in the industry. As well as contributing regular to woman&home, she also often writes for Woman, Woman's Own, Woman's Weekly and The Sun.