The huge responsibility that could fall on Duchess Catherine's shoulders after lockdown is lifted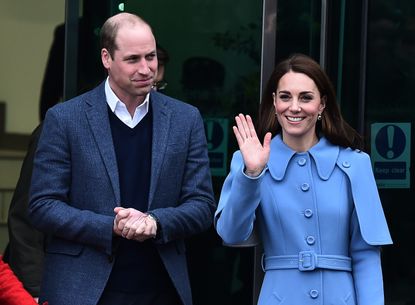 Duchess Catherine could take on a huge burden once lockdown measures are lifted.
What responsibility does Duchess Catherine face?
Once the coronavirus crisis has passed, there are rising fears that Queen Elizabeth, 94, may never return to public duties.
Royal biographer Andrew Morton claims the coronavirus risk may prevent the Queen from 'resuming her usual job'.
Andrew Morton told The Sun, 'It's terribly sad but I can't see how the Queen can resume her usual job.
'The Covid-19 virus isn't going away soon and will be with us for months, if not years.
'It would be far too risky for the Queen to start meeting people on a regular basis.
'She has always loved getting out and meeting people but she can't take the risk.
'How can she carry out investitures, meet ambassadors, do walkabouts and visit places without meeting people at close range?
'If she gets the bug, it could be fatal and would put Prince Philip at risk.'
As the future Queen consort, this means responsibility could fall on Kate's shoulders.
This comes after it was revealed that the monarch is expected to take an extended leave of absence.
According to the Sunday Times, the Queen is expected to step away from public duties for an extended period time due to the outbreak of the coronavirus pandemic.
The Queen, who is currently staying at Windsor Castle with Prince Philip, is reportedly putting her diary of royal engagements on hold possibly until into the autumn season.
If the Queen does go along with the leave of absence, it will be the longest that she has ever taken during her 68-year reign as monarch.
Robyn is a celebrity and entertainment journalist and editor with over eight years experience in the industry. As well as contributing regular to woman&home, she also often writes for Woman, Woman's Own, Woman's Weekly and The Sun.