Catherine could break from tradition with a flower crown at the coronation - find out the special connection to her mom and why this 'royal first' is the perfect choice for the Princess
Princess Catherine could swap for the traditional tiaras and diadems for a crown of flowers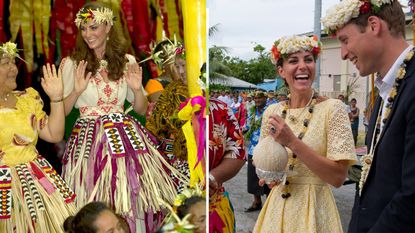 (Image credit: Getty)
In a bold move that would prove to be a royal first, it's being reported that Catherine, Princess of Wales could swap the more traditional, formal jewelry for a crown of flowers at the coronation of King Charles this weekend. The move would be suitably on brand for Charles' vision of a modern monarchy, and the choice of floral accessory would suit both Charles and Catherine's personalities perfectly.
In a surprising move, it's been claimed that Kate Middleton could shock everyone at the coronation by opting for a flower crown.
The daring move would be on brand for both Charles' environmentally-minded passions and Kate's love for the quiet, country life.
---
We were already so excited debating what Princess Catherine might wear at the coronation this weekend, and now that excitement has hit new levels.
Because reports from The Times suggest that Catherine could spearhead an absolutely bold, innovating royal first and reject the traditional jewelry choices, swapping the likes of the Cambridge Lover's Knot tiara for a crown made entirely of flowers.
While it might seem like a radical departure, it actually makes perfect sense for Catherine to be the one to introduce such a fresh take on royal fashion.
First of all, there's an adorable nod to her mother, Carole Middleton. Carole wore a flower crown at her wedding to Kate's father, Michael Middleton, in 1980.
And the rumors were that Kate actually wanted to follow suit at her own wedding to Prince William in 2011.
Many reports suggest that Kate – a Berkshire country girl through and through – wanted the wedding to feel like a rural, bucolic affair. She did, after all, have her Maid of Honor (sister Pippa) and bridesmaid Margarita Armstrong-Jones sport flower crowns and hair accessories.
Of course, marrying the future King meant that the scale had to be somewhat exaggerated for the bride – the pair ended up married at Westminster Abbey in front of 1900 guests.
But Kate proved she kept something of the country life about her, choosing a pair of earrings with oaks as a motif for her beloved home county. The reported £800,000 ($1M) floral budget also included touches that were meant to capture her love of the low-key country life, as the couple moved fresh plants and trees into the Abbey to evoke that spring feeling.
And her wedding bouquet, which included a flower called a Sweet William, used only home-grown, in-season flowers.
Kate's fashion choices of late have leaned towards sustainability and philanthropy, choosing earrings for the Easter Sunday service made by local designers who put an emphasis on naturally sourced gemstones and who donate profits to local causes.
The decision to go for a floral look would also be in keeping with a coronation that reflects King Charles's belief in the importance of sustainability and his passion for the natural world.
His invitations, for example, heavily featured flowers, birds, insects, and the Green Man. Other sustainable touches include the King's decision to reuse old thrones rather than having new ones made, as would have been customary.
As one of the most senior royals, Kate's decision could change royal fashion as we know it forever, with Queen Elizabeth's tiaras and incredible brooches making less regular appearances as they embrace more modern and personal choices.
Jack Slater is not the Last Action Hero, but that's what comes up first when you Google him. Preferring a much more sedentary life, Jack gets his thrills by covering news, entertainment, celebrity, film and culture for woman&home, and other digital publications.
Having written for various print and online publications—ranging from national syndicates to niche magazines—Jack has written about nearly everything there is to write about, covering LGBTQ+ news, celebrity features, TV and film scoops, reviewing the latest theatre shows lighting up London's West End and the most pressing of SEO based stories.