Duchess Camilla gives fans glimpse into personal bookshelf – and it features a surprising childhood favourite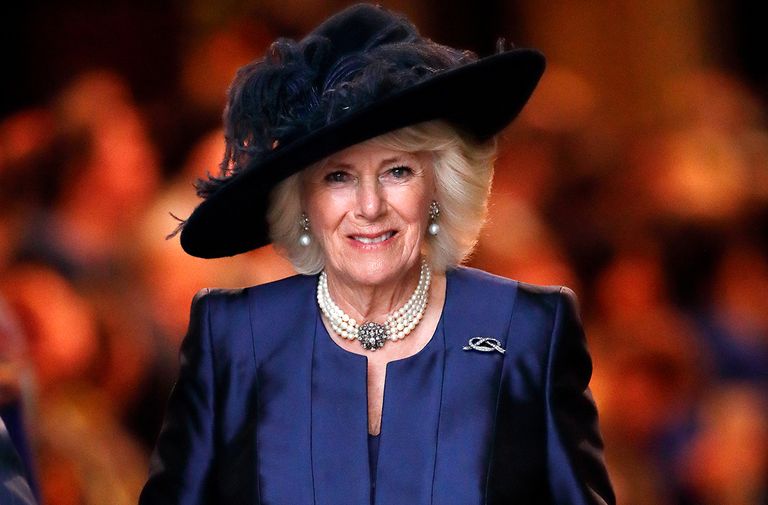 (Image credit: Getty)
Camilla, Duchess of Cornwall has given fans into her personal bookshelf in a new photo.
Duchess Camilla has given fans a glimpse into what she keeps on her personal bookshelf as she posted a new photo for a special reason.
The Clarence House Instagram page posted a series of media in honour of this week's Volunteers' Week, which the Duchess of Cornwall has spoken out in support of.
An image in the post shows Duchess Camilla at her desk making important phone calls, with the wall behind her filled with a selection of diverse reads.
And among the eclectic collection of books, which is surrounded by lots of filled photos frames of lovely family snaps, fans can see that an iconic book stands out.
Like most of the world's readers, the Duchess is clearly a fan of J.K. Rowling's Harry Potter series, as books from the series take pride of place on the central shelf of the royal's wall.
It's no surprise that the Duchess has such a stellar collection of books, as she has always been an advocate for reading, with patronages including, the National Literacy Trust, BookTrust, Coram Beanstalk and the Royal Society of Literature.
Just days ago, the Duchess even teamed up with a group of Hollywood stars to take part in a special reading of Roald Dahl classic James and the Giant Peach.
During the coronavirus lockdown, the Roald Dahl Story Company has been releasing special readings performed by stars across the globe in order to provide some light entertainment for children at home.
The latest episode featured the Duchess of Cornwall, Avengers' Taika Waititi, Black Panther's Lupita Nyong'o and Frozen's Josh Gad, with the Duchess reading the part of the Captain.