Princess Eugenie shares hopes for her son August in new interview
Princess Eugenie has opened up about her hopes for her son August's future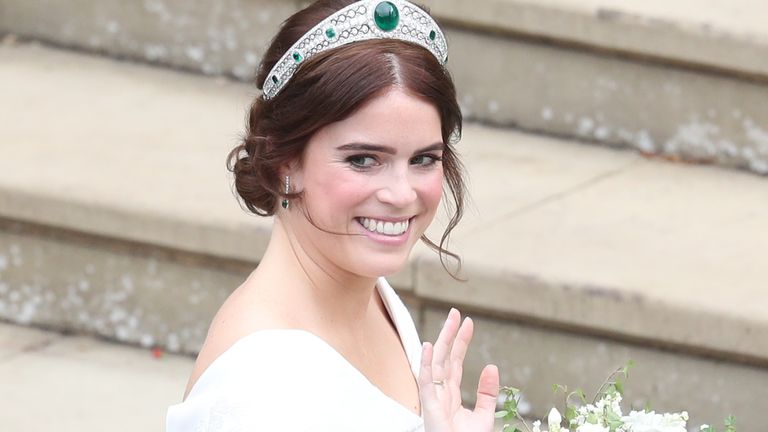 (Image credit: Andrew Matthews - WPA Pool/Getty Images)
• Princess Eugenie has opened up about her hopes for her son August.
• In a CNBC interview about modern slavery, the royal has spoken about her charity work and how it impacts her child's future.
• This comes after Royal news that Prince Harry and Meghan's ITV air date for Oprah interview has been confirmed
In an interview with CNBC about modern slavery, Princess Eugenie has opened up about her hopes for her son's future.
Only a few weeks ago, Princess Eugenie gave birth to a son with her husband, Jack Brooksbank. The princess and her husband named their child August Philip Hawke Brooksbank. In an interview with Tania Bryer on CNBC's Finding Solutions that was recorded before the royal gave birth, Princess Eugenie spoke about her wishes for her child.
"I think my child hopefully will be one of those people who will continue to see the world as a place that can be changed. I would love people to continue to have hope that we can make a difference. I hope that the world will be a place where my child can have hope and continue to know that they can make a big difference," she said.
Tomorrow night @CNBCi 10pm UK we look at #genderequality on the next episode of #findingsolutions with @Sabrinadhowre @IFAD @unicefchief @UNICEF @samanthabarry @glamourmag and HRH Princess Eugenie @TASC_org @GlobalGoalsUN #goalshouse @InsideFreuds pic.twitter.com/6Pnn3SgMXNMarch 2, 2021
See more
During the interview, Princess Eugenie spoke about the business that she co-founded, The Anti-Slavery Collective. The organization is "An independent collective whose mission is to bring change-makers together and to raise awareness for #modernslavery as a global epidemic."
The Princess broke down the term "modern slavery" so that viewers might better understand the work they do. "You know modern slavery is such a big term, but I think it can be cut down into different sort of headings, like domestic servitude, or sex trafficking, or different terms like that," she said.
When the royal was asked by Tania what some of the major problems surrounding modern slavery are. The royal replied, "The fact that it's very much a hidden crime, it's something that people might not be necessarily aware of, it's maybe in your nail bar, or at your car wash, or your clothes you're wearing. "
She continued to say that although modern slavery is still very much a global issue, there are some positive changes taking place.
"I think one of the positive things that are facing modern slavery is that the pandemic has brought people together, to data share more, and to access each other more, and I think there is a lot of momentum now towards people working together, which is great," said Princess Eugenie.
The recording of this interview took place before Eugenie had her son August on 9th February 2021. Since his birth, the Princess has only shared a few images of her newborn son. This includes an adorable selection of photos of the princess with her family.