Prince Harry and Meghan's ITV air date for Oprah interview confirmed
The air date of Prince Harry and the Duchess of Sussex's interview with Oprah has been announced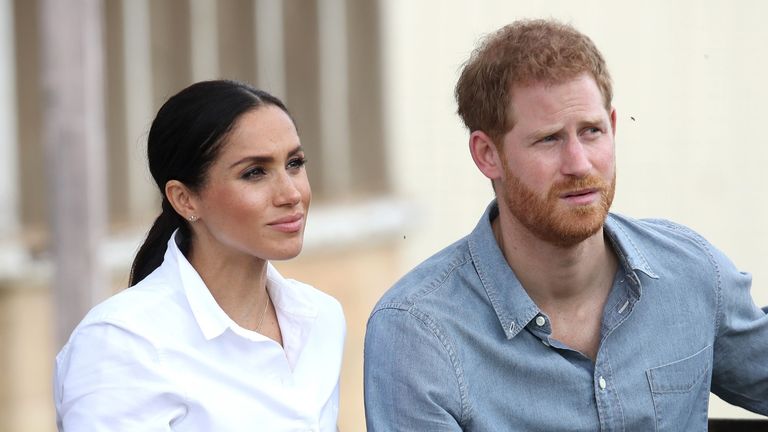 (Image credit: Chris Jackson - Pool/Getty Images)
ITV has just announced when the Oprah interview with Prince Harry and Meghan will air. It's rumored that ITV spent close to £1 million in order to buy the rights to show this interview with the royal couple.
Prince Harry and his wife Meghan Markle have filmed a tell-all interview with Oprah Winfrey, which will air on ITV at 9pm on Monday 8th March.
The Duke and Duchess of Sussex are taking part in this interview just over a year after making the decision to step back from royal life and move to the US.
The two-hour-long special will air in the US on Sunday on CBS. The same program will be available the day after on ITV in the UK. The show will begin at 9pm and finish at 11pm for the UK audience.
Director of television at ITV, Kevin Lygo, said the channel is pleased to present the interview to a UK audience.
"This interview is already a national talking point and ITV is pleased to be able to offer UK audiences the opportunity to see it," he said.
Fans have questioned whether Prince Harry and Meghan Markle were paid to do Oprah's interview and some have asked, what's the real reason why the couple are doing a tell-all interview? But the majority of questioning has been about what the couple might reveal in the two-hour special.
A trailer for the interview with the royal couple has been released by CBS. In the trailer, Oprah states, "There is no subject that is off-limits."
Fans also saw in the clip Prince Harry stating that he was concerned with "History repeating itself." This is obviously a reference to his mother Princess Diana who struggled with media scrutiny when she entered the royal family.
Some people have suggested that this interview is poorly timed. Prince Harry's grandfather, the Duke of Edinburgh, is currently in hospital. The Duke was rushed to King Edward VII hospital in London on Tuesday 16th February.
A few days ago, Prince Philip was transferred to St Bartholomew's for observation of 'pre-existing heart condition' and 'infection' treatment. The Queen's husband will turn 100 in June. His extended hospital stay has many royal fans concerned for his wellbeing.
Many fans have taken to social media to suggest that Harry and Meghan should reconsider airing the interview while Prince Harry's grandfather is unwell. One fan said, 'Unpopular opinion: doing this [the interview] while Prince Philip is very ill is in bad taste, and makes me sympathise with them less.'
However many other fans are disappointed that this link between the royal couple and Harry's grandfather has been made. One fan commented, 'People are preemptively blaming Meghan Markle for killing Prince Philip because she gave an interview... I would say "I wonder why so many older conservative people hate her," but it's really not a mystery.'