Your work and money horoscope for 2023 - what does the New Year have in store for your career prospects?
Your work and money horoscope 2023 includes all of the tips you need to help your career and finances soar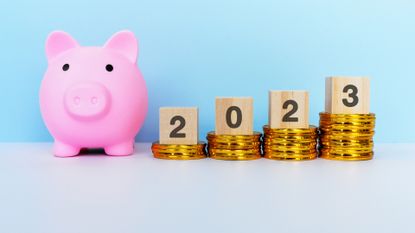 (Image credit: Nora Carol Photography/Getty Images)
woman&home newsletter
Sign up to our free daily email for the latest royal and entertainment news, interesting opinion, expert advice on styling and beauty trends, and no-nonsense guides to the health and wellness questions you want answered.
Thank you for signing up to . You will receive a verification email shortly.
There was a problem. Please refresh the page and try again.
Your work and money horoscope 2023 is a great way to get an idea of what you should consider in order to make this year beneficial to your career - during especially uncertain times.
Our expert astrologers, who are behind our weekly horoscope, Penny Thornton and Sally Morgan look to the year ahead and what your work and money horoscope 2023 has in store.
Penny says, "2023 may not get off to the best of starts, but by December, we'll be looking back on a year of tremendous highs. Take the World Cup, for instance, and the coronation. Are we proud? Yes, we are. However, the global economy will struggle and, in response to major crises, leaders we have come to love (and hate) will fall."
Sally points out that in terms of career, some signs may fare better than others. "Our intellectual air signs, Gemini and Libra, will enjoy travel, adventure and career opportunities they had never dreamed of, while eccentric Aquarius may be in for a few happy surprises.
Read your work and money horoscope 2023 via your sun sign, rising sign, and moon sign - which you can find in your astrology birth chart. This will offer you the most accurate reading for the year ahead.
Your work and money horoscope 2023
Aries
Penny says, "global trends are challenging, but you can still make money and progress. Starting or growing your own business is a major theme. Some Arians will be promoted or find recognition for their work, others will get the job of their dreams. This is not a year to take a financial risk, however. At some point, you're going to need emergency funds."
Looking forward, Sally adds, "the Full Moon at the beginning of April brings you a brilliant and exciting email, speaking of an exciting family celebration to come during August. There is more income heading your way too, as you show your genius talents to those higher up in the company."
Taurus
Penny says, "Pluto is poised to bring many changes to your career and material world over the next few years. You'll have opportunities to reinvent yourself and start whole new careers. Some of you will do just that this year. Don't rely on savings or investments: you need to be enterprising and far-seeing. Develop your own brand. Push yourself to the front."
Sally adds, "A gathering in May will lead to important negotiations and in November you will feel more financially secure, which will lead to a feeling of great accomplishment. Success is at your feet and a project that you have been working on for a long time has reached fruition, there will be an occasion in your honor and you may collect an award."
Gemini
Penny says, "Saturn's arrival on the Midheaven (March 7) begins a two-year period in which you'll make your mark. If you're job hunting, be prepared to accept a position beneath your abilities because it will take you where you want to go. Less is more. Likewise with money. There are rainy days to come, so borrowing on the future is not advised. Set boundaries."
Sally says, "This year is going to feel like a whirlwind, you have achieved something that others thought was impossible, your company will be in great demand along with your creative input into multiple projects. Financially secure and accomplished you head into the New Year feeling on top of the world. In October, as Mercury enters Libra, you are finally able to complete the house refurbishments and decorating you have been longing for."
Cancer
Penny says, "Forget the Cancerian side step: this is forward-march year. You know you have what it takes to get that job or that promotion; all you need is the chutzpah to elbow your way to the top. April is the time to push your hardest. All or nothing. It's a hard year financially, even so, it is your year to invest in yourself and your future."
Sally says, "A quiet but conscientious person you have great insight and would make an excellent counsellor. There may be a new beginning, which comes at the end of this year on December 5 while the new moon is in Sagittarius. It could involve your career, as you are trying to juggle a bit too much. Listen to your intuition, considering all options and you will know the right path to take."
Leo
Penny says, "Nothing is a dead certainty, and you'll need to be flexible, philosophical and resourceful. From mid-May, Jupiter will be transiting the zone of career and life direction, presenting windows of opportunity and helping you get to the top. Financial relationships are under Saturn, which means there's less money to go around, and cuts will need to be made."
Sally says, "A change in situation at work will turn out in your favor, as you are dedicated and resourceful, you may even end up in a management position. Some aspects of daily life will move on as you leave other aspects behind and money will come in when you least expect it, especially if you're trying to juggle your finances. Travel to an island will bring you good luck! Surprises in November will bring the most amazing feeling of accomplishment when your hard work is noticed and you are headhunted by other companies. You will be able to choose the right path for you."
Virgo
Penny says, "Until April, you have the momentum, so lose no time seeking job improvements and setting in place ambitious plans for the future. Not everyone is in your corner and a fellow worker or boss could make life difficult. Be prepared to move to a new location and to consider a job out of your comfort zone. Money could come to you from an unexpected source."
Sally adds, "July is a fantastic month for career and business and there is a special celebration, Although you might feel tied to a situation, there will be victory and reward as well as the chance to lay firm foundations. A new business opportunity in November will set you up for the future, as you may be starting a new venture or turning a hobby into a source of income."
Libra
Penny says, "You'll be working hard for every penny, and luck won't be part of the equation. There's greater competition and fewer jobs available, so get battle-ready. Nonetheless, efforts of many years could finally bear fruit. Money may not be in great supply, but you could do well from a settlement or a joint business venture."
Sally says, "An amazing holiday during late July and the beginning of August will give you the time you need to decide on your college evening class or online course. You are able to juggle your finances successfully, saving a little for your new business start-up fund in December. Family is very important to you and you are making extra time for the older generation of the family, along with siblings, cousins and looking at booking a family get away early next year."
Scorpio
Penny says, "Venus is your ace in the hand. From June through September, she will be improving your chances of success and bringing people of importance on side. Given the overall trend for "out there" developments, this is not a year to rest on your laurels, whether in regard to your career or finance. Purchasing a property could be on the cards, selling one - a bit of a gamble."
Sally says, "You're very busy this year completing a project that you have had little time for, plod along with a great big smile on your face and you'll find you have reached completion before you know it. You have always had a sixth sense and you can tell when a storm is coming. Check through all of your legal and financial matters and make sure that you are covered for every eventuality in early December, when a contract will be signed."
Sagittarius
Penny says, "You've got some decisions to make. Are you content to be a cog in the wheel so you have the freedom to pursue personal goals or are you ready for an upgrade? Either way, you'll be working hard and making money. 2023 is, however, the year to make your pitch for a top job – September could be the time. On no account, fall at the first fence."
Sally says, "An unexpected message or call around March 2, when the New Moon is in Aries, will offer you the chance to get your creative or spiritual juices flowing. The chance to start playing an instrument in a band or the opportunity to collaborate in some written works, which could be published or even performed onstage. Give yourself the freedom to create something unique and ambitious."
Capricorn
Penny says, "The eclipses of April 20 and October 14 open up new horizons. You may work abroad or for a foreign company, or you may choose to channel your energies and talents into your own projects. 2023 is the year of enterprise and home businesses. Pluto is at the start of a long transit of the money zone, which will ultimately transform your finances."
Sally says, "An interview for a new job or position in May will turn out to be all that you have been hoping for, this is important to you and you will want to look your best and make the most of this chance. If there seems to be a lot more questions than usual this is only because they are considering you for the position. Think about your answers before you give them."
Aquarius
Penny says, "2023 is the beginning of a new era, especially if you have Pluto on or near your Sun (early Aquarians). Like the butterfly emerging from the chrysalis, you are reinventing yourself, taking on a new role, and developing your healing potential. It's not roses all the way though, and you may continue to struggle with money and recognition. Onward. You'll get there."
Sally says, "Spontaneous and impulsive, you're very good at improvising as you go. To others, it might seem risky or uncomfortable, but you don't let that bother your plans in February. You aren't like the others. You don't need a rigid set of guidelines because winging it is right up your alley. This year you will be able to embrace success, even when you succeed by the skin of your teeth. A big career move is likely!"
Pisces
Penny says, "Pisces is the most selfless sign, but you can get carried away and forget to protect and provide for yourself. 2023 is, therefore, a bit of a wake-up call. Not everything is built to last – and that goes for jobs and relationships -- and the wise fish will build up resources and invest in the future. Nonetheless, you'll end the year in a better position than you started."
Sally says, "Some of the world's most successful and far-reaching ideas started as scribbles on the back of matchboxes. At the end of July, as Mercury enters Leo, an idea you are nurturing is starting to become a bit clearer. Think about what you'll need to do to turn this little idea into a big business. Great ideas and plans always take time to come to fruition, but news will come via email or letter in August."
Penny Thornton is an astrologer and author. Classically trained by the Faculty of Astrological Studies in London, she was awarded its Diploma in 1977. Penny has had eight books published including Synastry, the astrology of relationships and most recently, Astrology in the Workplace.
She combines her work as a serious astrologer with writing columns for magazines in the UK and Europe and appearing on television. In the year 2000 she established Astrolutely.com, now one of the top astrology sites in the world.
In her former life, Penny was a member of the Royal Ballet Company.