You can ride in a hot air balloon to the edge of space in 2024 - here's how much it costs...
Ever wanted to see space? You might get a chance in 2024!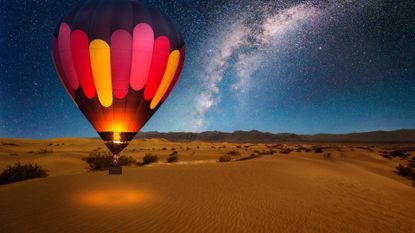 (Image credit: Getty Images)
Yep, you read that correctly - you'll be able to see the edge of space from a hot air balloon starting in 2024. All you have to do is pay the fee.
Travel for most of us revolves around finding hidden gems in Europe, hunting out some of the most spiritual places in the world, or perhaps booking into a gorgeous luxury hotel. But for some, the ultimate destination is space.
It's an area of study so vast and so unknown, we can't even fathom what we might encounter if we were to be so privileged as to make the journey ourselves. The idea feels so foreign to most of us - but thanks to the French aeronautic company, Zephalto, however, you may be able to travel to the edge of space sooner than you could've imagined.
In 2016, French aeronautical engineer Vincent Farret d'Astiès founded Zephalto, whose main goal is to lead innovative research into sustainable, low-carbon voyages - and taking commercial travelers higher into the stratosphere than has ever been possible.
According to Zephalto's website, the hot air balloon voyage promises the following: "With their mastery of wind trends and thermal elements, our pilots will guide you smoothly to the edges of space. As our balloon, Céleste, becomes lighter than air, it takes you on a awe-inspiring journey during which you can let yourself go and admire a once-in-a-lifetime panorama."
The company's main vessel, which is almost ready to take passengers into the stratosphere, is called Céleste - a pressurized capsule lifted by a stratospheric balloon.
Starting in 2024, guests will be able to take an out-of-this-world, six-hour voyage, where they can travel to an altitude of more than 82 thousand feet on the balloon - floating above 98% of Earth's atmosphere, and able to view the edge of space.
Now, how do you get on this exclusive and highly-fascinating experience, you may ask yourself? Guests can simply book pre-sale tickets through Zephalto's website for the price tag of €120k - aka, $133k. Since the journey only hosts six passengers per flight, this is a highly exclusive, once-in-a-lifetime opportunity, hence the hefty ticket price.
Oh, and did we mention that while on your journey, you'll be treated to a meal from a shortlist of Michelin-starred chefs, as you soak in views of outer space and the edge of Earth?
Madeline Merinuk is woman&home's US lifestyle news writer. She covers celebrity, entertainment, fashion, and beauty news but is also obsessed with internet trends - you can find her reciting trending TikTok sounds out loud at any given time.
After winning multiple student journalism awards for her investigative work, she graduated from Hofstra University in 2021 with a B.A. in Journalism. After graduating, she worked at today.com, the digital site for the Today Show, where she wrote pop culture news and interviewed big-name personalities like Emily Ratajkowski, Haley Lu Richardson, Emma Corrin, and more.
Her personal interests, in no particular order, are: cheese, Joni Mitchell, reading, hot yoga, traveling, having multiple chapsticks in every handbag at all times, and dancing to ABBA songs as if she were in the Mamma Mia movies.