Why we loved Apple TV's Sharper, a sophisticated, twisty thriller starring Julianne Moore, and the ending explained
Sharper stars Julianne Moore and Sebastian Stan in a high-fashion, high-society and high-drama thriller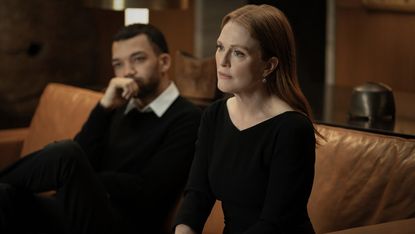 (Image credit: Apple TV)
woman&home newsletter
Sign up to our free daily email for the latest royal and entertainment news, interesting opinion, expert advice on styling and beauty trends, and no-nonsense guides to the health and wellness questions you want answered.
Thank you for signing up to . You will receive a verification email shortly.
There was a problem. Please refresh the page and try again.
Missing the deception and debauchery of Glass Onion or the guests at The White Lotus?
Then settle down with Apple TV's Sharper, packed full of superstar names and suspicious characters.
A sharper is someone who "lives by their wits," so explains the opening text of the movie.
The warning is handy for viewers, who might be duped into thinking this is going to be a genteel love story about life in the big city.
The plot – a sophisticated thriller in the style of Gone Girl
Okay, this will be spoiler free (for now). But, in a nutshell…
Tom (Justice Smith) is a New York City bookstore owner that has, among many treasures, a first edition of Jane Eyre. When Sandra (Briana Middleton), a student, enters the store and mentions Jane Eyre as the book that changed her life, the passion between bookstore owner and book lover is immediate, undeniable.
However… Sandra has a brother, who is less than wholesome. In fact, he owes some unsavory characters $350,000. The well-intentioned sister confesses all to her new beau. How can she possibly help her poor brother? How can she get him on the right track again?
Turns out, bookstore owner has more paper than his dusty old books. He's worth a mint.
Dad is rich. Very rich. So Tom offers to lend Sandra the money.
Cut to – Sandra vanishes with the cash, and Tom is left swindled and heartbroken.
Again, this is all very early on in the film. No spoilers. But it does lead is to the crux of the movie.
Sandra is a fraud. A sharper, perhaps. She's connected to the other characters we meet. The scene is set. The con is on. There are many players in the game. But who is playing who, and how does it all play out?
The cast - a star-studded ensemble like The White Lotus
The classy caper is packed full of big names.
Julianne Moore (Still Alice) plays Madeline Hobbes, a woman who is enjoying a romance with billionaire John Lithgow (The Crown.)
Madeline's son, Sebastian Stan (Pam and Tommy), causes her plenty of woes, turning up drunk and clashing with her new partner.
But, remember, nothing is really what it seems in this movie. And the talented cast are able to trick and surprise with ease.
The visuals - New York City vistas and sleek fashion
The movie is directed by Benjamin Caron, who has previously worked on Netflix's The Crown, and his cinematic eye makes the movie worth watching for the visuals alone.
Think swooping shots of Manhattan at midnight. Spectacular New York City vistas. And gorgeous rooms filled with the fashionable elite.
While the movie has plenty of substance, it's certainly not lacking in style.
How to watch Sharper
The hotly anticipated film is available to stream on Apple TV, having been released on February 17.
If you're not already an Apple TV customer, it costs $6.99 per month, but the good news is you can sign up for a free seven-day trial.
Sharper's ending explained *spoiler warning*
Okay, now on to the spoilers for those who've tuned in and want clarity on how it all ends.
Last chance to avoid spoilers. Go check out the latest entertainment news instead if you haven't seen Sharper yet.
So, it turns out that the hapless, romantic stepson Tom might have been the best grifter, or Sharper, after all.
After Sandra is found by Tom's investigators following the $350,000 con that started the movie, she threatens to out Madeline's involvement with Max, and her con artist ways. So Madeline arranges a meeting between the three of them.
Only Tom ends up crashing it, with the private investigators he hired allegedly to find Sandra revealing they've been looking into Madeline.
After a standoff, Madeline shoots Tom. He's dead.
The law enforcement officers who Tom brought with him threaten Madeline with arrest. But she makes a bargain. She'll transfer the billions she inherited to the charity her dead ex set up – the one Tom was placed in charge of – if she avoids prison.
But nothing is as it seems.
Tom has been on to them for a while – and he isn't dead. It was all rehearsed.
After Madeline transfers the money to the charity, she thinks she'll still have access to it all as she was named a Trustee in her ex's will, and she believes Tom is dead.
he was so gorgeous the entire film #Sharper 😫 pic.twitter.com/vm8ZTQsKmLFebruary 17, 2023
See more
Just watched Sharper on Apple TV about a con. SUPERB. The sort of thriller I wish I'd written. Great structure, good characters, very clever. It was one step ahead of me the whole way. Highly recommended. #SharperFebruary 17, 2023
See more
Tom, as charity director and someone very much still alive, is now in charge of his late father's fortune, and Madeline and Max are stuck on a plane out of Manhattan after believing they struck a deal with the cops to get away with Tom's 'murder.'
Sandra was in on it, too. While Max trained her to be a great con artist, she uses it against him. She confessed all to Tom earlier, having actually fallen in love with him when pretending to in the first con.
Pretending to have fallen back into drug addiction when found by Tom's 'private investigators', it's all a long con so Madeline can bring Max back into the fold for the final confrontation.
The movie ends with Tom (now very rich) and Sandra going on a date, while Madeline and Max are, we assume, penniless and exiled from Manhattan.
Jack Slater is not the Last Action Hero, but that's what comes up first when you Google him. Preferring a much more sedentary life, Jack gets his thrills by covering news, entertainment, celebrity, film and culture for woman&home, and other digital publications.
Having written for various print and online publications—ranging from national syndicates to niche magazines—Jack has written about nearly everything there is to write about, covering LGBTQ+ news, celebrity features, TV and film scoops, reviewing the latest theatre shows lighting up London's West End and the most pressing of SEO based stories.