Who is in the cast of Wellmania? The hilarious Netflix show starring Celeste Barber
Wellmania is Netflix's newest hit show, featuring Celeste Barber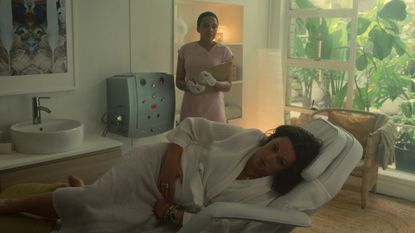 (Image credit: NETFLIX)
Wellmania is Netflix's newest hit show - here's everything you need to know about the star-studded cast, as well as what the Aussie series is based on.
Netflix is constantly dishing out great TV shows that we can't get enough of - recently, we've been obsessed with the likes of BEEF and Florida Man. Recently, though, a new Australian comedy series has come onto the scene, and fans can't get enough of it.
Wellmania stars Celeste Barber as Liv Healey, a renowned food blogger who faces a health scare after returning home to Australia to celebrate her best friend's birthday. In order to get herself back on track, she embarks on a rather chaotic mission to be as "well" as possible, truly stopping at nothing to achieve her wellness goals.
The show boasts many hilarious characters that will keep you on your toes the whole time. Celeste Barber, who plays Liv, gives a great performance as she realizes she can't return to her career in the United States unless she seriously works on her health.
JJ Fong stars as the aforementioned best friend, Amy, and she wholeheartedly supports Liv as she embarks on her wellness journey - especially considering she's the reason Liv returned home in the first place.
Moving onto Liv's potential love interest, Isaac Huang, played by Alexander Hodge (who you might recognize from shows like Insecure.) Although Isaac is in pretty much every episode, we just don't think the handsome actor could ever possibly get enough screen time.
Other cast members include Lachlan Buchanan as Gaz, Liv's brother, as well as Remy Hii as Gaz's fiancé Dalbert Tan, Genevieve Mooy as Liv's mother Lorraine Healy, Johnny Carr as Doug Henderson, and Simone Kessell as Helen King, to name a few more recurring characters.
This show comes after a prolonged cultural shift promoting good wellness habits - sometimes to a toxic extent, and by any means necessary, which is essentially what Liv is doing in Wellmania. The show is actually based on a book of the same title by author Brigid Delaney, in which she recounts her experience undergoing an extreme 101-day detox, similar to that of Liv's journey in Wellmania.
Some of the extreme wellness rituals Brigid followed (hot yoga, colonic irrigation, bone broth, infrared saunas, silent meditation retreats, and juice fasts, to name a few) are examples of some of the trendy actions people all over the world have been taking in recent years in the name of health.
Brigid wants people to know that just because something might be temporarily healthy, it might not be worth the torture you're putting yourself through to achieve it.
"I also wanted to issue a serious warning about the way the industry can exploit vulnerable people looking for cures; exhausted women looking for rest; and lonely people looking for community," she told the Daily Mail.
Madeline Merinuk is woman&home's US lifestyle news writer. She covers celebrity, entertainment, fashion, and beauty news but is also obsessed with internet trends - you can find her reciting trending TikTok sounds out loud at any given time.
After winning multiple student journalism awards for her investigative work, she graduated from Hofstra University in 2021 with a B.A. in Journalism. After graduating, she worked at today.com, the digital site for the Today Show, where she wrote pop culture news and interviewed big-name personalities like Emily Ratajkowski, Haley Lu Richardson, Emma Corrin, and more.
Her personal interests, in no particular order, are: cheese, Joni Mitchell, reading, hot yoga, traveling, having multiple chapsticks in every handbag at all times, and dancing to ABBA songs as if she were in the Mamma Mia movies.