Florida Man ending explained - and is the Netflix crime drama based on a true story?
*That* Florida Man ending explained, because seriously, what on earth happened?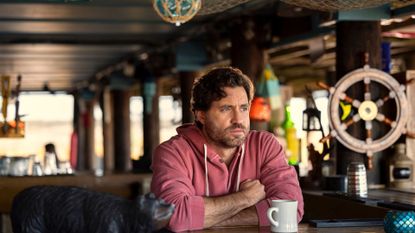 (Image credit: JACKSON LEE DAVIS/NETFLIX)
Netflix's hit show Florida Man had quite the ending - and folks are wondering just what the heck happened. Here's what we know, plus whether the show is based on a true story.
Ever been on a journey all the way down the state of Florida to escape your life, only to find that you may be able to secure a sum of gold? Mike Valentine and Delly West have - and that's essentially the plot of Netflix's new show, Florida Man.
Mike and Delly, played by Edgar Ramirez and Abbey Lee respectively (the show also touts Jason Bateman, brother of Justine Bateman, as an executive producer), are having an affair - and when they get caught, Delly decides to flee to Florida (which is coincidentally Mike's home state), and they embark on an escape that turns into quite the adventure. Between a porta-potty explosion, Delly faking her own death, and other events that go haywire, this show is anything but boring, making for the perfect binge-watch.
At the end of the seventh episode, however, fans were left with some questions.
*Warning - spoilers ahead*
What happens at the end of Florida Man?
Point blank, Mike is pretty mad that his dad, Sonny, hid the gold from him, especially after he believed that he was making some progress in making his relationship with his dad better. Sonny then admits that he didn't want to tell Mike about the gold because he didn't want his son to leave Florida again.
Then, we come to find out that Delly steals Sonny's boat, which is where all of the gold is stashed - so, either way, it doesn't matter. Mike then runs off to find Delly after seeing her name carved into a pole outside of Sonny's restaurant, believing it to be a sign.
Cut to, Mike ending up on the boat with Delly. She walks into the cabin just as Mike discovers the gold, and inquires whether he came for the gold or for her. Although Mike's answer isn't revealed, it doesn't really matter, seeing as he's in a bit of a "having his cake and eating it too" scenario - he got the gold and Delly, which is a pretty happy ending if you ask us.
Is Florida Man based on a true story?
In short, no - it's a fictional crime drama made exclusively for Netflix by Donald Todd. The story isn't based on a book or a prior film like new hit shows Daisy Jones & The Six or Jury Duty.
This show is, however, loosely based on some Florida headlines that have appeared in the news over the last few years. It's somewhat of a running joke that Florida always has the most bizarre local news headlines - phrases along the lines of "Florida man charged for throwing hot dog at St. Pete police officer" or "Florida man wearing nothing but cowboy hat attacks woman with machete."
Madeline Merinuk is woman&home's US lifestyle news writer. She covers celebrity, entertainment, fashion, and beauty news but is also obsessed with internet trends - you can find her reciting trending TikTok sounds out loud at any given time.
After winning multiple student journalism awards for her investigative work, she graduated from Hofstra University in 2021 with a B.A. in Journalism. After graduating, she worked at today.com, the digital site for the Today Show, where she wrote pop culture news and interviewed big-name personalities like Emily Ratajkowski, Haley Lu Richardson, Emma Corrin, and more.
Her personal interests, in no particular order, are: cheese, Joni Mitchell, reading, hot yoga, traveling, having multiple chapsticks in every handbag at all times, and dancing to ABBA songs as if she were in the Mamma Mia movies.