Will there be a season 2 of BEEF on Netflix? Here's what we know so far
The thriller series has caught the world's undivided attention - but will there be a season 2 of BEEF?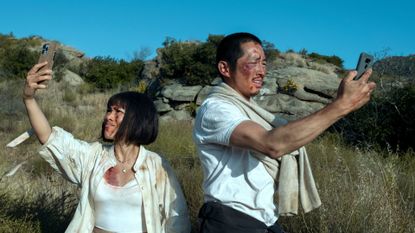 (Image credit: NETFLIX)
BEEF on Netflix is taking the world by storm - and folks have been wondering whether the thriller series will continue for a season 2. Here's what we know so far.
The show follows Amy (Ali Wong) and Danny (Steven Yeun) after they become inextricably linked due to a road rage incident, showing the lengths that the other will go to (crimes, pranks, general tomfoolery) in order to get revenge on the other. Their feud, of course, starts taking over their lives and affecting their relationships, leading to a boiling point.
The creator of the A24 show, Lee Sung Jin, said previously that he does want the show to continue - but we'll have to wait to see how things cook up. Here's what we know about the potential for a season 2 of BEEF.
Will there be a season 2 of BEEF?
With the shocker of an ending season 1 gave us, surely a season 2 should be in the works, right? Well, it's complicated.
"Cards on the table, we did pitch this show as a limited anthology, so there is sort of a close-ended-ness to the story [of Danny and Amy]," Lee Sung Jin told Elle. "But, if given the opportunity, of course, I'd love to explore them further, because Danny and Amy, I love those characters. But yeah, by design, though, this a close-ended narrative," he continued.
He did say, however, that he could see the team exploring different types of "beef" with other characters, or even new characters completely - similar to the formula that makes shows like White Lotus so successful. "There are a lot of ideas on my end to keep the story going, should we be blessed with a Season 2," he said.
Alas - even if BEEF did get renewed for a season 2, we probably wouldn't see it aired until at least early 2024.
We know one thing for damn sure, though - audiences LOVE BEEF.
So far, the series has garnered a 100% rating on Rotten Tomatoes (which only very few series and movies hold), and fans can't stop talking about it on social media.
"Cannot express enough how much everyone needs to watch "Beef" on Netflix with Steven Yeun and Ali Wong. Just the best writing of 2023, hands down," one Twitter user said.
Even A-lister comedian Mindy Kaling (who recently opened up about weightloss) has sung her public praises of the show. "I know people have written about this better than I can articulate it, but Beef is so good because it shows us actual Asian rage, ambition, lust (with such incredible writing + amazing/gorgeous actors), and it's just so gratifying. As a South Asian cousin I salute you, Beef," she tweeted on April 9.
Madeline Merinuk is woman&home's US lifestyle news writer. She covers celebrity, entertainment, fashion, and beauty news but is also obsessed with internet trends - you can find her reciting trending TikTok sounds out loud at any given time.
After winning multiple student journalism awards for her investigative work, she graduated from Hofstra University in 2021 with a B.A. in Journalism. After graduating, she worked at today.com, the digital site for the Today Show, where she wrote pop culture news and interviewed big-name personalities like Emily Ratajkowski, Haley Lu Richardson, Emma Corrin, and more.
Her personal interests, in no particular order, are: cheese, Joni Mitchell, reading, hot yoga, traveling, having multiple chapsticks in every handbag at all times, and dancing to ABBA songs as if she were in the Mamma Mia movies.