Who dies in Death on the Nile and how was it different in Agatha Christie's original Poirot book?
The matter of who dies in Death on the Nile likely would've come as a major shock for book fans after *that* major change…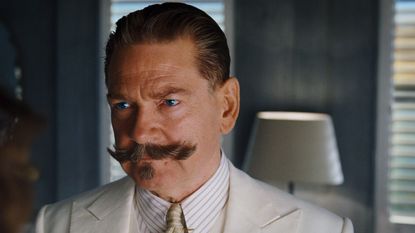 (Image credit: Twentieth Century Fox)
If you're wondering who dies in Death on the Nile you're probably not alone, especially since the movie made a major change to Agatha Christie's book.
Fans of the best mystery books will no doubt be no stranger to the works of legendary British crime writer Agatha Christie. With so many possibilities to explore in some of her best-loved novels, it's perhaps no surprise that Kenneth Branagh set his sights on her dramatic Death in the Nile story for his 2022 movie.
Following Belgian detective Hercule Poirot as he attempts to discover who killed heiress Linnet Ridgeway, there are suspects galore in this period drama. Though just like in the recent Our House ending and Pieces of Her ending, Death on the Nile is a mystery with noticeable adaptation changes—including who dies.
But who dies in Death on the Nile and how is it different to Agatha Christie's original mystery? We reveal the major change that's been made in this atmospheric whodunnit…
*Warning: spoilers ahead!*
Who dies in Death on the Nile and how is it different from the book?
Just like so many of the best book-to-movie adaptations there are several major differences between Kenneth Branagh's Death on the Nile film and Agatha Christie's original storyline. Perhaps one of the most notable of these is who dies in Death on the Nile, with the film changing the fate of one of its most memorable characters.
In both the Death on the Nile movie and book three murders take place, though it's the death of heiress and newlywed Linnet Ridgeway-Doyle aboard the S.S. Karnak boat during her honeymoon with husband Simon that kick-starts this dramatic whodunnit.
Linnet is found shot in bed in her cabin after an extraordinary series of events take place involving many of her fellow passengers. Her new husband Simon has been shot in the leg by his hysterical former fiancée (and Linnet's friend-turned-bitter-enemy) Jacqueline De Bellefort, played by Emma Mackey.
Despite having everything she could ever need in the world, the moment Linnet had set eyes on Simon she wanted him and deliberately stole him away from Jackie, who was head-over-heels with her love.
Incapacitated, everyone's attention is on helping Simon and comforting Jackie as she reacts in horror and regret at what she's done. It's only the next day that Linnet's grisly fate is discovered and it seems the rich woman had plenty of enemies.
After telling Belgian detective extraordinaire Hercule Poirot and Simon that she could've seen the murderer enter Linnet's cabin but didn't, her maid Louise is killed, suggesting she was heavily hinting she did actually know who did it.
Both of these murders do occur in Agatha Christie's Death on the Nile book, but the third, the death of Poirot's friend Bouc before he can reveal who he witnessed killed Louise is a complete change. In the novel, Bouc doesn't appear in the story at all and instead the plot of his character belonged to Tim Allerton, who is on holiday with his mother in Egypt.
Salome Otterbourne (played by Sophie Okonedo) is the one who dies in Death on the Nile in the original story. Her character is drastically changed in the movie as she is now no longer a heavy-drinking romance writer traveling with her long-suffering daughter Rosalie.
Instead she's a jazz singer and the adopted mother of her niece, Rosalie, who in this version was actually at school with Linnet and Bouc's love interest, not Tim's as in the novel.
Not only that, but Poirot realizes over the course of the Death on the Nile movie that he has feelings for Salome, though even at the very end he's unable to actually confess this to her. In the books this couldn't be more different!
If anything, Agatha Christie's Poirot actively tries to avoid spending too much time alone with the exuberant Salome whose romance novels aren't nearly as popular as they once were (or she believes them to be…), but who can't help discussing all things sex and love.
Ultimately, no matter who dies in Death on the Nile, both book and film, lead to the same conclusion—Jackie and Simon are the murderers. Simon broke off his relationship with Jackie with her blessing so that he could marry Linnet and they could kill her and inherit her fortune before "rediscovering" their feelings for each other.
The death of Bouc instead of Salome doesn't alter this end point, though it does change the love stories that Agatha Christie's novels so often end with. In the Death on the Nile book Rosalie and Tim Allerton get engaged, whilst movie-Rosalie is denied this happy ending after Bouc's murder. Instead, Poirot gets a hint of romance with his unexpressed feelings for Salome that never occurs in the book.
When it comes to the major positive impact made by the switch-up of who dies in Death on the Nile, it allowed the film to bring back another familiar face for fans of Kenneth Branagh's previous Christie adaptation. Bouc appeared in Murder on the Orient Express and in the Agatha Christie book, but never in Death on the Nile.
Opening up about why they made changes between the book and movie, Death on the Nile screenwriter Michael Green told RadioTimes.com that they aimed to add the romantic element for Poirot in the film.
"In each film, we think of it as Poirot versus something new that he hasn't really dealt with in his personal life," he said, before later adding, "[W]e thought that the themes of Death on the Nile were very much about love and heat and passion, and that every character would have a chance to tell us what they feel about romance".
"And that would be a wonderful thing for Poirot to be forced to deal with because as a character he eschews romance. It's a messy, sticky, ugly thing that really doesn't fit into his neat 90-degree angled corners. So how much fun would it be for a case that forces him to really think about romance and love, and to be befuddled by it?" Michael continued.
Whether or not fans are universally impressed by the change to who dies in Death on the Nile, both the movie and original book have a truly gripping tale to enjoy…
Who is in the Death on the Nile cast?
The Death in the Nile cast is headed up by recent Oscars 2022 winner of Best Original Screenplay for Belfast, Kenneth Branagh. He not only directed the movie but played beloved Agatha Christie detective Hercule Poirot in Death on the Nile. The Belgian sleuth is well-known for his very precise ways and is attempting to enjoy a holiday in Egypt before the inevitable happens and he is brought into solve yet another complex case.
He's joined in the Death on the Nile cast by Wonder Woman and Red Notice star Gal Gadot as the movie's first murder victim, Linnet Ridgeway-Doyle. The heiress has more than a few enemies aboard the S.S. Karnak given her somewhat ruthless attitude to getting what she wants.
Her husband Simon Doyle was played by controversial actor Armie Hammer and Simon is every bit as ruthless as his wife, though he hides it well until Poirot deduces his involvement in her death.
Simon's lover and Linnet's former friend Jacqueline De Bellefort, known as Jackie, is played by Sex Education star Emma Mackey. Apparently heartbroken by Simon's rejection of her, she's determined that nothing is more important than her love for him, not even her former friend's life.
Tom Bateman, perhaps best known for his role in historical fantasy show Da Vinci's Demons and in Kenneth Branagh's previous Poirot movie, Murder on the Orient Express. Meanwhile, Sophie Okonedo (Hotel Rwanda, The Secret Life of Bees) stars as talented jazz singer Salome Otterbourne.
They are joined in the Death on the Nile cast by Letitia Wright (Black Panther) as Rosalie Otterbourne, Annette Benning (American Beauty) as Euphemia, Bouc's mother, Rose Leslie (Game of Thrones) as Linnet's maid Louise Bourget and Ali Fazal as Andrew Katchadourian (Victoria & Abdul), Linnet's cousin and trustee.
And could forget the comedic and acting talents of Jennifer Saunders as Marie Van Schuyler (Linnet's godmother), Dawn French as Mrs Bowers (Marie's nurse and secret lover) and Russell Brand as Linus Windlesham (Linnet's former fiancé).
Originally released in February 2022, Kenneth Branagh's Death on the Nile is now available to watch on Hulu and HBO Max in the US and Disney+ in Europe, giving Agatha Christie fans plenty of time to enjoy their favorite moments!
Emma is a Senior Lifestyle Writer with six years of experience working in digital publishing. Her specialist areas including literature, the British Royal Family and knowing all there is to know about the latest TV shows on the BBC, ITV, Channel 4 and every streaming service out there. When she's not writing about the next unmissable show to add to your to-watch list or delving into royal protocol, you can find Emma cooking and watching yet more crime dramas.