What will Kate Garraway's book be about as husband Derek remains in hospital?
What will Kate Garraway's book be about? Here's what we know...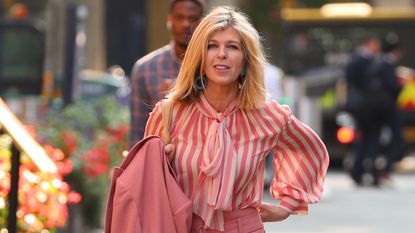 (Image credit: Getty)
Kate Garraway has had an undeniably difficult year, with her husband Derek Draper remaining in hospital with coronavirus since March last year.
This week, the GMB star revealed she is penning a new book all about her and her family's experience, in a bid to help others who are suffering.
Kate, who is mum to 14-year-old Darcey and 11-year-old Billy, says she wants to share her story even though Derek's battle is 'far from over.' So what will the book be about? Here is what we know so far...
More from woman&home:
What will Kate Garraway's book be about?
Kate Garraway's book will detail what her family have been through over the last ten months, with Derek being admitted to hospital with COVID-19 back in March.
The book is titled The Power of Hope and will share Derek's battle with the deadly virus, plus how Kate has coped.
In an Instagram post sharing news of the book, Kate wrote: "The pandemic is far from over and so is Derek's journey but I have decided to share our story and what's helping to keep me going.
"As we all try to work out what our new futures will look like. I am really hoping that it will help you with all that you are going through."
And in a statement, she added: "Whilst my experience of Covid is an extreme/extraordinary one, I am only too aware that this virus has impacted every single one of us.
"We are all going through this, to a greater or lesser degree. By telling the story of Derek's illness and how it has altered our lives, I hope to be able to reach out to others who are suffering."
She added: "If writing about my experience of facing fear, coping day to day with an uncertain future and finding strength for the sake of my kids can in some way help another who is feeling lost or in despair, it will mean a lot."
How long has Derek been in hospital?
Derek Draper was admitted to hospital on 30th March, where he tested positive for COVID-19.
Just days later, it was revealed Derek was in intensive care and believed to be seriously ill in an induced coma.
Derek remains in hospital ten months later, and Kate has admitted she has no idea what Derek's recovery looks like.
Kate has received support from many famous faces including her co stars and even the Duke and Duchess of Cambridge admitted they were 'moved' by Kate's nightmare.
What has Kate Garraway said about Derek's condition?
During the early stages of Derek's health battle, Kate took a break from Good Morning Britain.
However, since her return, she has been very open and honest with viewers when it comes to Derek's condition.
In July, it was reported that Derek had come out of a "deeper coma" but was still in a minimal state of consciousness.
In October, Kate revealed that Derek said his first word since his battle with COVID-19, heartbreakingly, it was 'pain.'
She said: "We have had a breakthrough which was both amazing yet heartbreaking.
"It happened when the nurses were moving Derek, as part of his treatment, to trigger the sensation of gravity because he's been horizontal for so long.
"Right from the beginning, when Derek couldn't even open his eyes, the doctors and nurses have always talked to him to be respectful, and to try to trigger a response.
"As they were shifting him, they asked if he could feel anything — not expecting a response as he hadn't previously. But suddenly he mouthed in a whisper, 'Pain'."
Speaking of the reality of his condition, Kate has also said: "He's lost nearly eight stone in weight, a lot of it muscle throughout his body.
"The fight with the virus has been won and he's still here but it's wreaked extraordinary damage on his body and we don't know if he can recover from that.
"He's still with us and has fought the most extraordinary battle.
"The fact that he is still here, I am so grateful."
Robyn is a celebrity and entertainment journalist and editor with over eight years experience in the industry. As well as contributing regular to woman&home, she also often writes for Woman, Woman's Own, Woman's Weekly and The Sun.