How is Kate Garraway's husband Derek Draper doing? TV star gives an update on his condition following covid-19 battle
Heartbreaking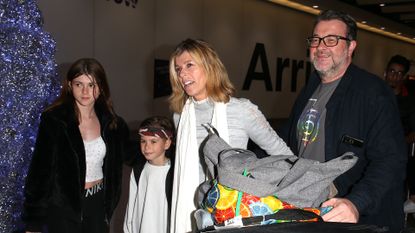 (Image credit: Getty)
Kate Garraway has been open about her husband Derek Draper's ongoing battle with coronavirus, as he remains hospitalised following complications with the deadly virus - but how is he doing now?
Derek is thought to be fighting one of the longest battles with covid-19 in the country. And it's a story that has touched even The Duke and Duchess of Cambridge.
The Good Morning Britain star's husband was first admitted to hospital in March last year and spent several months in a medically induced coma in intensive care.
In July, it was reported that Derek had come out of a "deeper coma" but was still in a minimal state of consciousness.
After Kate's moving ITV documentary exploring the longer term effects of covid-19, Finding Derek, we know Derek is now awake and responsive.
But, despite being free from the virus now, covid-19 has wreaked "extraordinary damage" on Derek's body, of which the ongoing repercussions are currently unknown.
More from woman&home:
• Best hair straighteners
• Best hairdryers
• Best mascara
How is Kate Garraway's husband Derek Draper doing?
Kate recently revealed that her husband is "very changed" since contracting coronavirus last year and there is "no end in sight" following a difficult battle with the illness.
She has made significant changes to the family home in order to facilitate his return home from hospital, although she has been warned it is unlikely this will be before December 2021.
During her recent ITV documentary, Kate confessed she might have to fall in love with Derek all over again if and when he returns home from hospital.
Kate admitted, "He will behave differently and be physically different.
"If he needs 24-hour care, I will the primary carer," she confessed. "I have a fear of the reality of that life. It's a completely different dynamic to our relationship."
When asked how their relationship might change, she said, "I feel as though we might have to fall in love again. We have to find out who each other are a little bit."
Kate previously revealed Derek was fighting an "extraordinary" battle against covid-19 and has lost eight stone since being in hospital.
Opening up about the first time she was able to see him, Kate said, "When I finally got to FaceTime him, seeing him unconscious was a big shock.
"He's lost nearly eight stone in weight, a lot of it muscle throughout his body.
"He looked worn-out, thin and pale with dark circles under his eyes and there were lots of tubes."
Despite the journey they've been through, Kate has promised to "save" Derek from the situation he is in, after he admitted he's thought about dying, saying he "can't go on".
"I promised I will save you, and I'll find a way, but you just have to hang in there okay," Kate bravely told her husband, as she and her family vow to keep fighting with him.
Who is Kate Garraway's husband Derek Draper?
Derek worked in politics for a number of years and previously affiliated himself with the Labour party, before resigning his allegiance with them back in May 2019, citing a lack of "leadership".
Derek was formerly a researcher and adviser to then-Labour MP Peter Mandelson in the 1990s.
He went on to become a journalist and columnist, working for the Daily Express, before retraining as a psychotherapist.
How old is Kate Garraway's husband Derek Draper?
Derek Draper turned 53 whilst in hospital last August. Kate and their two children marked the occasion at home but said it was "challenging" spending the day without him.
She revealed, "We managed to FaceTime him and sing Happy Birthday, and we had a cake which we showed him."
Kate also marked their 15-year wedding anniversary alone.
Is Kate Garraway able to visit her husband in hospital?
Although Kate and her two children were allowed to visit Derek in hospital over Christmas, the new national lockdown means Kate has been unable to see her sick husband since.
"I was very grateful to have had that opportunity and then instantly, I'm now in a position that even I can't visit," she said.
"We're into lockdown and that means no visits at all which I hope doesn't continue for the whole of lockdown because I think that will be very impactful."
And she thinks it could be detrimental to his progress.
"I haven't seen him since Christmas, which of course means he's back into a situation where he's looking at strangers in masks," she said. "And I think that's the situation for everybody, they've got somebody in the hospital at the moment, it's not unique.
"It's tough. It's also the same for people in care homes. And when you're someone like him who is dealing with a consciousness problem and trying to emerge, I can't help but fear it's not helpful."
Is Kate Garraway's husband improving?
Despite describing his journey as "two steps forward, three steps back," Kate admits that on reflection they are in a more positive place.
She told Good Housekeeping, "I think back to where we were in March 2020...
"When Derek's lungs were solid with infection and his infection rates were the highest doctors had seen in anyone who has lived, we're undoubtedly in a more positive place."
There was a breakthrough last October, when Derek uttered his first word after 214 days. But, much to Kate's dismay his first word was "pain."
Kate said that while it was "heart wrenching" that "pain" was her husband's first word, the fact he said anything at all was considered a "huge breakthrough".
"It's a case of trying to balance belief, hope, optimism with reality. But we have had a breakthrough which was both amazing yet - heartbreaking," she admitted.
"It happened when the nurses were moving Derek, as part of his treatment, to trigger the sensation of gravity because he's been horizontal for so long."
Despite having "won" his fight with the virus, Derek has a long way to go before being back to full health. And, sadly there is still no suggestion that he will definitely get there.
"We don't know if he can recover from that," Kate revealed.
"He's very, very sick and as time goes on it's a virus, it's a little bit like a computer virus, the doctors manage one bit extraordinarily well and there seems to be hope and then there is something else.
"It's affected him from the top of his head to the tip of his toes."
Which is why Kate has to balance a sense of hope with reality.
On receiving updates on Derek's condition, she said, "You don't feel the euphoria you'd like because you have this feeling the next day something else will have gone wrong.
"At first it was all about Derek's lungs. But then his kidneys started failing and he was on dialysis. Now they've realised Covid can affect every cell of the body: most recently Derek's been having problems with his intestines."
How is Kate Garraway coping?
Kate Garraway has confessed she's "not coping" with being a single parent, while Derek remains in hospital.
The GMB star - who recently revealed she's writing a book about her struggle - told Good Housekeeping, "I'm not sure I am coping! I honestly don't know how single mums do it; it's just so hard.
"A lot of time I find myself thinking, 'What would Derek say?' and 'What would Derek do?'"
Despite regularly feeling "consumed with fear" over Derek, the former I'm A Celebrity… Get Me Out Of Here star! has previously thanked everyone for their "staggering support" - including Ranvir Singh, who has been a single mum for years.
"I'm lucky that I'm being supported by lots of friends, too, and Ranvir [Singh] has been really helpful because she's been operating as a single mum since her son, Tushaan, was very little," she confessed.
But, Ben Shephard is the friend Kate has leaned on most during this time.
The TV star said she knows it's been a "huge pressure" on her co-host Ben - who has been close friends with Kate for over 20 years.
Paying tribute to her kind colleague, she said, "For 20 years, Ben's had to do so much for me but this year's been another level.
"He's been trying to do everything he can to help – it's been a huge pressure on him.
"Working alongside somebody you're worried about, plus also trying to do the job… it's a huge thing. I'm aware how tough it's been for him."
Kate recently took some time off from Good Morning Britain, after feeling herself burn out following a year of turmoil.
On returning to the ITV show, she confessed, "I've taken some time off.
"On ITV they've very kindly given me some time off. I haven't been feeling very well - I think it might be one of those things where chickens come home to roost after a long year that we've all had.
"I just took some holiday leave - at home, I know holidays are controversial - within the four walls of my home. I had a lot of sleep and a bit of medicine and feeling much better, thank you."
Sign up to our free daily email for the latest royal and entertainment news, interesting opinion, expert advice on styling and beauty trends, and no-nonsense guides to the health and wellness questions you want answered.
Georgia writes across Woman & Home and Good to Know and specialises in all things royal. Previously labelled the "Queen of the royals," Georgia knows the whose who and what's what when it comes to the monarchy. When she's not eagerly following the royal family, Georgia enjoys shopping and self-care. She lives with this motto in mind; "if your dreams don't scare you, they aren't big enough."