Kate Garraway reveals husband has beaten coronavirus but may never recover from the damage
Kate broke down in tears during the heartbreaking TV appearance...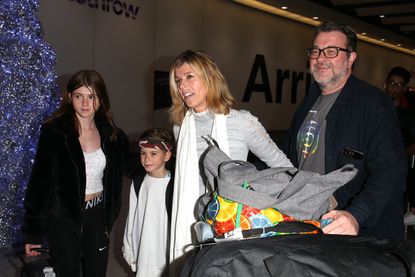 (Image credit: GC Images)
Kate Garraway has shared a heartbreaking update on her husband Derek Draper's coronavirus battle.
The Good Morning Britain host returned to the ITV breakfast show today to chat to her colleagues all about the awful situation and divulge some details about how Derek is doing.
Derek, who shares children William and Darcey with Kate, was admitted to an intensive care unit back in March and was put into an induced coma while suffering severely with the Covid-19 virus.
Bravely speaking about the harrowing past few weeks, Kate explained that while Derek is no longer ill with the virus, he may never recover from the damage the disease has done to his body.
"The fight with the virus has been won and he's still here but it's wreaked extraordinary damage on his body and we don't know if he can recover from that," Kate said, getting teary.
"He's still with us and has fought the most extraordinary battle.
"The fact that he is still here, I am so grateful.
"He is very, very sick.It has affected him from the top of his head to the bottom of his toes," Kate added, highlighting the severe impact of the illness.
Sharing the painful story of how Derek was taken into hospital and the last words he shared with Kate and their children before being placed in the coma, Kate courageously went on.
She said, "They put him in the ambulance and put a mask on him to breathe and Darcey and Billy came out all worried and said 'You're the best children anybody could ever ask for, look after mum, be good for her.'
"He couldn't really speak to me because of the mask, he was begging me, saying, 'I can't stand this, I feel like I'm suffocating every second of the day, I can't take it, please let them put me in a coma'.
"And then on the Sunday morning they rang me up and the doctor said, 'We've got him here we're going to put him into a coma, he can hear you, he is right here'.
"He said, 'I love you, I have to leave you.You saved my life and I don't just mean now, I mean everything, being married to you and the children, you've saved my life' and then I said 'I love you, I love you'.
"the doctors said, 'He's gone, he is under,' and that's it, that's the last time I spoke to him."