We're in awe of 106-year-old tattoo artist Apo Whang-Od's stunning magazine cover
Tattoo artist Apo Whang-Od is the Vogue Philippines April cover star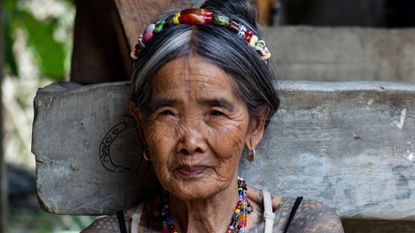 (Image credit: Getty)
Apo Whang-Od has become the oldest person to grace the cover of Vogue, appearing on Vogue Philippines' April 2023 beauty issue cover.
Also known as Maria Oggay, 106-year-old Apo Whang-Od has been tattooing skin since the age of 15, using extremely delicate tools that require the most skilled hands.
The Vogue Philippines cover image shows her staring into the camera, sporting a dark red lip and her hair tied back away from her face, decorated with a rust-coloured headband.
With her arm tattoos on show, Apo is wearing a simple black vest top, accessorised with large colourful beaded necklaces and small gold hoop earrings.
Sharing the cover on her Instagram page, Apo wrote, "Beauty embracing culture. Beauty transcending age. Beauty is not modern, it is timeless."

Vogue Philippines shared the incredible image on Instagram, captioning their shot of the cover, "Apo Maria 'Whang-Od' Oggay symbolizes the strength and beauty of the Filipino spirit."
They added, "Heralded as the last mambabatok of her generation, she has imprinted the symbols of the Kalinga tribe—signifying strength, bravery, and beauty—on the skin of thousands of people who have made the pilgrimage to Buscalan. 'When visitors come from far away,' Whang-Od says in the Butbut language, 'I will give them the tatak Buscalan, tatak Kalinga for as long as my eyes can see.'"
The cover is already a huge hit with fans, with one commenting, "ICONIC COVER! Beauty in aging & culture."
Another added, "This is everything!!!"
And a third commented, "This is the most beautiful cover."
Another comment read, "This is GROUNDBREAKING! Congrats Vogue Ph!"
Apo Whang-Od began her career under her father's mentorship, who saw her tattooing potential. At the time, she was the first and only female mambabatok (tattoo artist) around.
She would usually tattoo sacred symbols of ancestors on people who are about to cross a major threshold in their lives, like men becoming headhunters, for instance. For women, tattoos would be done in order to promote fertility and beauty.
Her early tattoo works did not earn her any income, but due to the influx of tourists in her town, she was earning at least 5,000 Php ($92) a day for her tattooing in 2015.
Teasing the interview with Apo Whang-Od in another Instagram post, Vogue Philippines shared a picture of the artist with her great niece alongside the caption, "A thousand-year-old practice in Buscalan called 'batok' will live on, as Apo Whang-Od passes her craft to her grand-niece Grace Palicas.
"Using the same basic tools of her forebears, Grace has inherited her commitment to the craft. 'I was the first child to learn how to tattoo. I just observed what she did,' Grace, now 26, tells Vogue Philippines.
The 106-year-old's signature three dots representing herself, Grace, and Elyang—her second protégé—are also ellipses, signifying an open-endedness and a continuation that extends beyond its origins."
Previous cover stars of Vogue Philippines include Daniela Szpejna and Jasmyn Palombo, part of a new generation of models with Filipino roots, singer-songwriter Gabriella Sarmiento Wilson, known as H.E.R. and Anne Curtis, a Filipino-Australian actress.
Robyn is a celebrity and entertainment journalist and editor with over eight years experience in the industry. As well as contributing regular to woman&home, she also often writes for Woman, Woman's Own, Woman's Weekly and The Sun.