Watch Carmy try to keep his sh*t together in The Bear season 2 trailer
You already know what we're going to say... Yes, chef!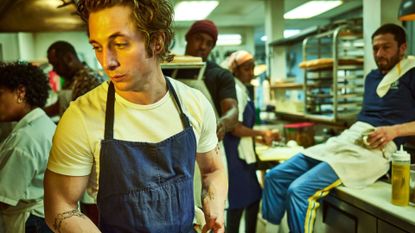 (Image credit: FX)
The Bear, FX's hit series, is returning for season 2 this summer - and a trailer for the brand new season just got served like a piping hot Chicago beef sandwich.
After a successful, critically acclaimed first season, FX's hit show The Bear is getting ready to debut the second season - and based on the trailer, things are about to get heated.
The show, which debuted on Hulu last year, was met with a huge reaction from fans, ranging from people who loved the culinary aspect of the show, and even those who dubbed Jeremy Allen White, the Golden Globe-winning actor who plays Carmen "Carmy" Berzatto, the "internet's boyfriend."
Season 1 left off with Carmy and his crew finding thousands of dollars hidden within their restaurant by his late brother, Mikey, who owned the place before Carmy took over. This spawns Carmy's idea to transform the staple Chicago eatery from a beef sandwich shop to a real, honest restaurant.
At the Television Critics Association winter press tour, the show's creator, Christopher Storer, let audiences in on what's in store for season 2. "They think they're starting from a healthy place, but a restaurant, like a lot of other businesses, just creates the same problems," he said. "We see them have to step up in certain ways and in some ways regress, but hopefully come back together."
As seen in the trailer, during this season, the gang works hard to renovate the restaurant and prepare the new digs - combatting issues like mold removal, and even sending some of their members to culinary school to freshen up their cooking skills.
FX's synopsis for the show reveals: "Carmy, Sydney Adamu (Ayo Edebiri) and Richard "Richie" Jerimovich (Ebon Moss-Bachrach) work to transform their grimy sandwich joint into a next-level spot. As they strip the restaurant down to its bones, the crew undertakes transformational journeys of their own, each forced to confront the past and reckon with who they want to be in the future."
Who's in season 2 of The Bear?
The season 2 cast will be essentially the same as season 1, featuring mainstays like Jeremy Allen White, Ebon Moss-Bachrach, Ayo Edebiri, Abby Elliott, Lionel Boyce, Liza Colón-Zayas, Edwin Lee Gibson, Matty Matheson, and Oliver Platt, who will all reprise their roles from the first season.
Additionally, an old friend of Carmy's will be coming into the frame this season, played by Molly Gordon, as seen in the trailer. We'll also see a guest appearance from Bob Odenkirk.
While last season was focused on bringing Carmy, Sydney, and the kitchen staff together to form a team, this season, the crew will be honing their teamwork skills even deeper, and even getting their hands messy with renovations, presenting a whole new slew of challenges for the already dysfunctional team at Original Beef.
"The transition brings a newfound focus on hospitality as well. As the entire staff is forced to come together in new ways, pushing the boundaries of their abilities and relationships, they also learn what it means to be in service, both to diners and each other," the season 2 synopsis reads.
Madeline Merinuk is woman&home's US lifestyle news writer. She covers celebrity, entertainment, fashion, and beauty news but is also obsessed with internet trends - you can find her reciting trending TikTok sounds out loud at any given time.
After winning multiple student journalism awards for her investigative work, she graduated from Hofstra University in 2021 with a B.A. in Journalism. After graduating, she worked at today.com, the digital site for the Today Show, where she wrote pop culture news and interviewed big-name personalities like Emily Ratajkowski, Haley Lu Richardson, Emma Corrin, and more.
Her personal interests, in no particular order, are: cheese, Joni Mitchell, reading, hot yoga, traveling, having multiple chapsticks in every handbag at all times, and dancing to ABBA songs as if she were in the Mamma Mia movies.