The Bear season 2 *is* confirmed! Here's everything we know so far and a swift recap of season 1...
Here's what we know so far about the highly anticipated The Bear season 2, including cast, release date and more. Yes, Chef!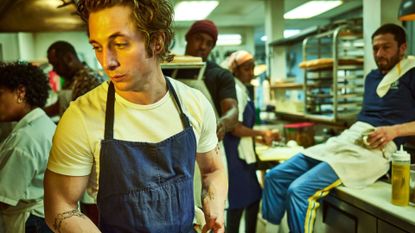 (Image credit: FX)
woman&home newsletter
Sign up to our free daily email for the latest royal and entertainment news, interesting opinion, expert advice on styling and beauty trends, and no-nonsense guides to the health and wellness questions you want answered.
Thank you for signing up to . You will receive a verification email shortly.
There was a problem. Please refresh the page and try again.
"Yes, Chef" or "yes, Jeff"? Season 2 of FX's smash-hit The Bear is coming to your screens summer 2023 - here's everything to know about it, including cast, release date, plot and more.
Good news to those who loved last summer's most stressful TV series, The Bear: season two is getting served up this summer! So, rest assured, you can have yet another binge-watching marathon that will inevitably make you crave a beef sandwich.
Since the release of season one in 2022, the show has been slowly gathering well-deserved accolades - for example, Jeremy Allen White's first Golden Globe win for his role as Carmy. And, with the help of fans literally begging for a season two ("the bear please come back to me i need season 2," someone tweeted in December), FX finally confirmed 10 new episodes of the show are set to release this summer.
"The Bear has exceeded our wildest creative, critical, and commercial expectations. We can't wait to get to work on season two," said FX Entertainment President Eric Schrier.
Here's what we know so far about season two of The Bear.
When does The Bear season 2 come out?
As of right now, FX has only revealed that the show will release in the summer of 2023 - which means we're just mere months away, people! We're still keeping our eyes peeled for an official release date. But we'll be putting it in our calendars as soon as we find out.
Where can I watch season 2 of The Bear?
The Bear season two will be available to stream on Hulu (opens in new tab), along with the already existing season one.
Who will be in the cast of The Bear season 2?
As of right now, co-show runners Joanna Calo and Christopher Storer have confirmed that all original cast members will be making triumphant returns. This includes:
Jeremy Allen White as Carmy Berzatto
Ebon Moss-Bachrach as Richie Jerimovich
Ayo Edibiri as Sydney Adamu
Lionel Boyce as Marcus
Liza Colón-Zayas as Tina
Edwin Lee-Gibson as Ebraheim
Corey Hendrix as Gary 'Sweeps' Woods
Abby Elliott as Natalie 'Sugar' Berzatto
What will happen in season 2 of The Bear and a swift recap of season 1:
When we left off in season one, The Original Beef of Chicagoland was getting finally getting their footing under new management from Carmy as he dealt with mourning the loss of his brother, Mikey. Carmy discovered a recipe for spaghetti sauce left by his brother, which led him to find thousands of dollars hidden inside tomato cans.
Although we aren't sure for sure what will conspire in season two, the showrunners have revealed that "nobody's fixed and everyone's a work in progress," in regards to the raucous cast of The Original Beef's kitchen staff.
Joanna Calo said that season two will hone in on "hospitality, taking care of others, and making the cast's lives a bit bigger."
Now that Carmy is sitting on loads of cash, we likely (Lord willing) will season two pick up with the cast continuing to revive the restaurant and get it to a place where they can actually start seeing a real profit, rather than scrounging.

"It's more like: How can we do this and maybe make some money? And maybe make it easier? And maybe—maybe—start from a place that's not f-cked? Instead of beating a dead horse and making this f-ckin' food that no one even wants to make, I see the promise in my sort of found family in the kitchen. Can we use that to build something freshly, now that we've all found each other in this stupid-ass system where things make no sense and people are putting veal stock on the top fuckin' shelf of the walk-in?" show creator Christopher Storer said.
Could we see some romance for Carmy this season?
Maybe - but definitely not between Sydney and Carmy, Christopher said.
"I just love their relationship [as it is]: the amount of respect they have for one another, and that they have a shared history, even if it's not together," he said. "To add romance or sexuality would monkey up what I enjoy about their relationship."
Madeline Merinuk is woman&home's US lifestyle news writer. She covers celebrity, entertainment, fashion, and beauty news but is also obsessed with internet trends - you can find her reciting trending TikTok sounds out loud at any given time.
After winning multiple student journalism awards for her investigative work, she graduated from Hofstra University in 2021 with a B.A. in Journalism. After graduating, she worked at today.com, the digital site for the Today Show, where she wrote pop culture news and interviewed big-name personalities like Emily Ratajkowski, Haley Lu Richardson, Emma Corrin, and more.
Her personal interests, in no particular order, are: cheese, Joni Mitchell, reading, hot yoga, traveling, having multiple chapsticks in every handbag at all times, and dancing to ABBA songs as if she were in the Mamma Mia movies.