Vanessa Bryant shares a heart-breaking letter one year on after her husband and daughter's death
Kobe Bryant and daughter Gianna Bryant are remembered as wife and mother Vanessa shares a beautiful letter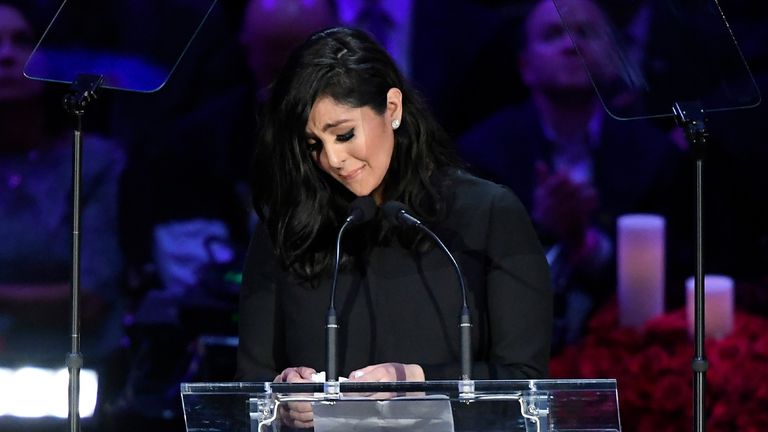 (Image credit: Kevork Djansezian / Getty Images)
 Kobe Bryant's widow Vanessa Bryant has shared an emotional letter written by her late daughter Gianna's friend. This comes on the anniversary of the death of Kobe and Gianna.  
A year ago, basketball legend Kobe Bryant and his daughter Gianna, fondly known to her family and friends as Gigi, Bryant lost their lives in a tragic helicopter crash. 
Since then, Vanessa has been very vocal about her grief but has tried to stay positive for her children. She stated this month, "Grief is a messed up cluster of emotions. One day you're in the moment laughing and the next day you don't feel like being alive."
Read more from woman&home: 
• Best winter coats for women to see you through a cold spell in style
• The best scented candles for a warm and cosy home this winter
• Best Readers for literary lovers to buy now - from Kindles to Kobo devices
Gigi's best friend Aubrey Callaghan wrote a heart-breaking letter to Vanessa that talked about her grief and how much Gigi meant to her. 
Vanessa has shared this letter on her social media, writing, "Today I received this sweet letter from one of Gianna's best friends, Aubrey. I love you Aubz (as my Gigi would call you). Thank you so much for beautifully sharing some of your memories of my Gigi with me and allowing me to share them here on my ig."
In the letter, Audrey shared some brief stories about Gigi and reminisced about how much she missed her friend. 
Gigi's friend wrote about their life together at school and spoke about Gigi's personality, saying she was "fiery and stubborn, she knew what she wanted and she fought to get it."
Aubrey wrote,  "I hope that in the midst of your intense sadness you catch a glimpse of joy in who the daughter you created and raised was. You did it right Mrs. Bryant, and we are all eternally grateful to you."
She also earnestly wrote at the end of her letter, "If you ever need more stories of her, I am filled to the brim and would be privileged to share them with you." This act of kindness from a young girl was warmly received by Vanessa, who stated, " My Gigi is INCREDIBLE and I truly appreciate your thoughtful letter."
Vanessa continued to speak in the present tense as she told Aubrey "She [Gigi] loves you so much."
Vanessa discussed her grief and said that even a year on, her child and husband's death didn't feel real. She said, "I will never understand why/how this tragedy could've happened to such beautiful, kind and amazing human beings. It still doesn't seem real."
Actor Lily Collins commented on this post, stating, "This is just pure [heart emoji] sending you all so much love and keeping you in my thoughts and prayers." Supermodel Naomi Campbell also commented on this post, saying, "In my prayers."