The Bachelorette's Clare Crawley asked out on a date following Dale Moss breakup
Clare Crawley has been asked out on a coffee date by a former Bachelorette contestant, just hours after splitting from fiancé Dale Moss.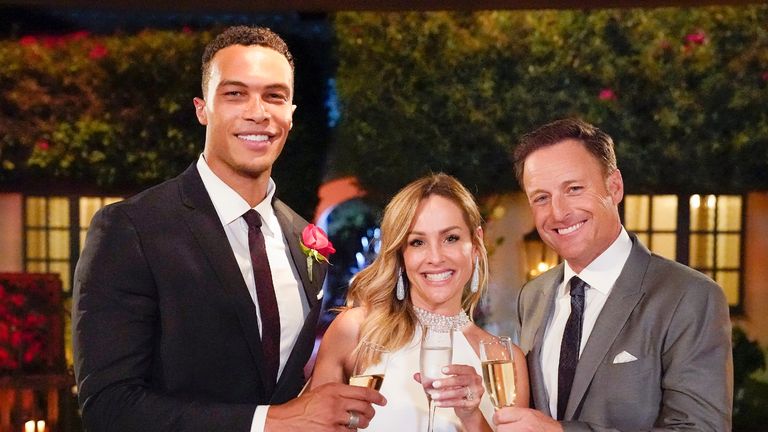 (Image credit: (Craig Sjodin/ABC via Getty Images) )
By Emma Dooney
Clare Crawley hasn't been single for long, but she's already got a suitor lined up. 
The Bachelorette star has been asked out on a coffee date by Spencer Robertson, who joined the show after Clare's dramatic departure to be with contestant Dale Moss. The cheeky proposition came just hours after Moss confirmed on Instagram that his five-month-long engagement to Crawley had ended. 
"Coffee? @clarecrawley," Robertson wrote in a story on his Instagram, which has over 47k followers. Having failed to win over Crawley's replacement Tayshia Adams, it looks like the 30-year-old Californian is still looking for some reality TV love. 
Crawley, who has yet to respond publicly to Robertson's offer, officially gave up her Bachelorette title after accepting Moss's marriage proposal on the show's fourth episode. 
The couple's engagement occurred just two weeks after they met and was followed by an intense whirlwind of festive celebrations and cross-country trips. 
More from Woman&Home:
The couple spent Thanksgiving at Moss's family house in California, where Crawley played with backyard chickens and enjoyed a classic holiday meal. For Christmas, the loved-up couple headed to Moss's snowy hometown in Sioux Falls, South Dakota. 
With their relationship looking solid on social media, Bachelorette fans were shocked when Moss announced the split on his Instagram yesterday. 
"I wanted to share with you all that Clare and I have decided to go our separate ways. We appreciate the love and support we've received from so many people, but this is the healthiest decision for both of us at this time," the American football player wrote. 
Moss shared more details about the breakup today, during a brief interview in New York. "Obviously, it's not the greatest situation," he admitted. "But, you know, Clare and I have a lot of love for each other and, you know, this is the healthiest thing for us right now."
Crawley, who has remained silent on the separation, seems to be focusing on her family right now. 
Last week, she visited her mother, Lilia, who has dementia and lives in a nursing home. 
"I try and sing and laugh to add a little sunshine to her day, even if it's only for the 20 minutes they allow," she revealed in a poignant Instagram post. "She has good days and bad, Just like we all do. Well today I couldn't hide my hard day. A mother always knows. Without saying a word, she reached in her pocket and pulled out this tissue and just squeezed my hand."