Who is Tammy Faye Bakker? Everything you need to know about the intriguing real-life star of new movie, The Eyes of Tammy Faye
The Eyes of Tammy Faye is a new movie portraying the stranger-than-fiction story of America's most famous televangelists whose empire was brought down by scandal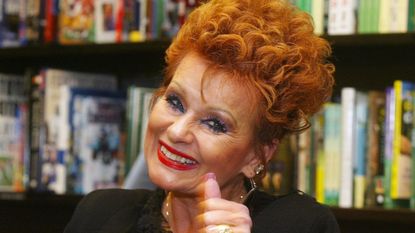 (Image credit: J. Emilio Flores/Getty Images)
woman&home newsletter
Sign up to our free daily email for the latest royal and entertainment news, interesting opinion, expert advice on styling and beauty trends, and no-nonsense guides to the health and wellness questions you want answered.
Thank you for signing up to . You will receive a verification email shortly.
There was a problem. Please refresh the page and try again.
Laughing stock. Trailblazer. Con artist. Victim. Tammy Faye Bakker's legacy is a complicated one, all of which will be explored in new movie The Eyes of Tammy Faye starring Jessica Chastain.
That's right. It is none other than the star of Molly's Game and Zero Dark Thirty who has transformed herself into the larger-than-life Tammy Faye Bakker.
Turning herself into the televangelist who built the Christian version of Disneyland required plenty of hours in the makeup chair for the Academy Award-nominated beauty.
---
There were reports that the heavy makeup Tammy Faye was famous for had permanently damaged Jessica's skin, but she was quick to shoot this down on Twitter.
Shocking transformations aside, who was Tammy Faye Bakker and what will the new Jessica Chastain film explore?
The makeup artists for the Tammy Faye film are the best in the business. Don't believe clickbait headlines misinterpreting me. They just want you to open their links. My skin hasn't been ravaged by makeup! 🤣 pic.twitter.com/HcYMS2u8UWAugust 26, 2021
See more
Who is Tammy Faye Bakker?
Tammy Faye Bakker and her first husband, Jim Bakker, were, at one point, among the most famous televangelists in America, living a life of luxury with multiple houses and expensive cars.
Born Tamara Faye LaValley in International Falls, Minnesota, she was the oldest of eight children raised by a mill worker and a homemaker. "I thank God whenever I get into a bathtub, because I never had that when I was a little girl," she is quoted as once saying.
She had two children—Tammy Sue and Jay—with first husband Jim Bakker.
How did Jim and Tammy Faye become famous?
After meeting Jim in 1960, they were married in 1961. The next year, they moved to South Carolina, where they began their ministry together, initially traveling around the United States; Jim preached, while Tammy Faye sang songs and played the accordion.
Their early successes on television came while living in Portsmouth, Virginia, where they were hosts of the popular children's show Jim and Tammy. They then created a puppet ministry for children on Pat Robertson's Christian Broadcasting Network (CBN), which ran from 1964 to 1973.
However, it was when they branched out into their network that they catapulted into new levels of fame.
What was the PTL Club?
The PTL Club ran from 1974 to 1987.
PTL stood for Praise the Lord, and Tammy Faye co-founded it with Jim.
It was to be a televangelist Christian news program. With humble beginnings, they first hosted the show from an abandoned furniture store in Charlotte.
The series was a mix of variety entertainment (emulating what was popular on American TV at the time) with Christian family values and preaching.
The series was also an early pioneer in giving a religious seal of approval to chasing wealth: it was meant to be aspirational to see the lavish lifestyle of Jim and Tammy Faye, and the act of giving money to build their vision was encouraged.
The PTL Club soon grew into its own network and a corporate enterprise within a year of its founding, generating $120 million annually in the 1970s.
Heritage USA: the Christian Disneyworld
The PTL Club took off at unprecedented levels, turning Jim and Tammy Faye into bonafide entertainment stars and a powerful presence.
In 1978, the pair used $200 million of PTL funds to build Heritage USA, a Christian retreat and theme park that, at the time, ranked alongside Disney World and Disneyland as one of the most popular theme parks in the United States.
Just as Jim and Tammy Faye were seemingly unstoppable, it was all to come crashing down.
Who is Jessica Hahn: the woman who brought down the PTL Club?
The Bakkers' control of PTL collapsed in 1987 after revelations that $287,000 had been paid from the organization to buy the silence of Jessica Hahn.
Jessican Hahn is an American model and actress. In 1980, when she was a 21-year-old church secretary, Hahn alleges that she was drugged and raped by Jim Bakker and another preacher, John Wesley Fletcher.
In his 1997 book, I Was Wrong, Bakker disputed Hahn's account, claiming that he was "set up" and that their sex was consensual.
After the lawsuit, heightened scrutiny of the Bakkers businesses led to the rapid realisation that funds were being improperly used.
In 1989 Bakker was sentenced to 45 years in prison on 24 fraud and conspiracy counts. At the time, Tammy Faye stood by Jim through the scandal, but in 1992, while Jim Bakker was still in prison, Tammy Faye filed for divorce, saying in a letter to the New Covenant Church in Orlando, Florida, "For years I have been pretending that everything is all right, when in fact I hurt all the time... I cannot pretend anymore."
Life after Jim Bakker: new marriage and return to the public eye
On October 3, 1993, Tammy married property developer Roe Messner in Rancho Mirage, California.
Now Tammy Faye Messner, happily-ever-after wasn't to come, as Roe Messner was convicted of bankruptcy fraud, having claimed to owe nearly $30 million to over 300 creditors in 1990.
He was sentenced to and served 27 months in prison.
As her second husband was jailed and Tammy Faye was first diagnosed with colon cancer, she re-entered the public eye in a series of books, movies and television appearances.
She appeared on television shows like The Drew Carey Show, playing the mother of character Mimi Bobeck (Kathy Kinney), who was also known for wearing excessive amounts of makeup. She also published an autobiography, I Will Survive... and You Will, Too!, in which she described her battles with cancer and her life with Roe Messner.
When did Tammy Faye die?
Tammy Faye's battles with cancer were well publicized in her later years.
On July 18, 2007, Messner made what would be her final appearance on Larry King Live. At the time, she said she weighed just 65 pounds. Messner's husband would later say that he believed she chose to do the interview to say a final goodbye to her fans.
Just two days later, on July 20, 2007, Messner died at her home near Kansas City, Missouri. She was 65 years old.
Jim Bakker is still alive today.
Tammy Faye's legacy: the ultimate drag queen and unlikely LGBTQ ally
Tammy Faye continues to hold a special place in American culture because, despite everything, she is often thought of as a pioneer.
During the AIDS epidemic in the 1980s, Tammy Faye shocked viewers by inviting an AIDS patient on Tammy's House Party, a segment on the PTL Club.
Interviewing Steven Pieters, a gay Christian minister with AIDS, they discussed his sexuality, coming out, diagnosis with AIDS, and the death of his partner. Tammy Faye embraced the gay community at a time when it was unconventional to do so in the Christian faith.
During the broadcast, Tammy Faye asked her viewers, "How sad that we as Christians, who are to be the salt of the earth, we who are supposed to be able to love everyone, are afraid so badly of an AIDS patient that we will not go up and put our arm around them and tell them that we care."
In her last interview with Larry King, Tammy Faye said, "When I went—when we lost everything, it was the gay people that came to my rescue, and I will always love them for that."
This enduring legacy will only be solidified by Jessica Chastain's turn as the icon in The Eyes of Tammy Faye, opening in theaters on September 17.
As well as the new movie, there are reports that Wicked actress Kristin Chenoweth is also planning a Broadway musical based on Tammy Faye's life.
Jack Slater is not the Last Action Hero, but that's what comes up first when you Google him. Preferring a much more sedentary life, Jack gets his thrills by covering news, entertainment, celebrity, film and culture for woman&home, and other digital publications.
Having written for various print and online publications—ranging from national syndicates to niche magazines—Jack has written about nearly everything there is to write about, covering LGBTQ+ news, celebrity features, TV and film scoops, reviewing the latest theatre shows lighting up London's West End and the most pressing of SEO based stories.