Summer Solstice 2022: Everything to know, how to manifest abundance, and what happens at Stonehenge each year
Summer Solstice 2022 marks the important annual event, celebrated since ancient times - everything you need to know and how to celebrate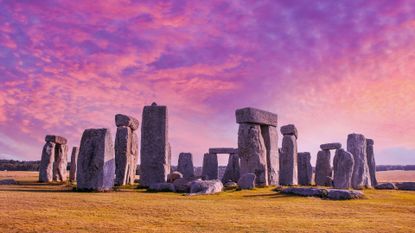 (Image credit: Susan Vineyard/Getty Images)
Summer Solstice 2022 is an event that celebrates everything summertime and the abundance this time of year brings. Have you ever thought much about its rich history and how to mark it?
A week after the June Full Moon 2022 lights up the night sky, the Northern Hemisphere takes all of that Saggitarius energy into its Summer Solstice. Of all the astrological events in 2022, Solstices are very clear signifiers of seasons changing and thus have been celebrated for millennia.
For those of you who follow the Moon calendar 2022, it's likely that you enjoy marking beginnings and endings. Perhaps even a Full Moon ritual here and there - but did you know that Summer Solstice 2022 will be marked by age-old ceremonies and rituals?
Here's everything you need to know on the meaning behind the annual event, what happens at Stonehenge, and some super positive suggestions to help you manifest abundance this Solstice too.
When is the summer solstice?
Summer Solstice 2022 is on June 21 in the Northern Hemisphere and December 21 in the Southern Hemisphere.
Every year across the globe, the longest day of the year is celebrated. Depending on the calendar's shift, Summer Solstice happens sometime between June 20 and June 22 in the Northern Hemisphere and between December 20 and December 23 in the Southern Hemisphere.
This event happens when the Sun is its furthest away from the equator, which makes it the longest day of the year. According to the National Trust (opens in new tab), it has been, "marked as the high point of summer – or midsummer – since the Neolithic era."
Summer Solstice has been celebrated since ancient times and has long been connected with pagan traditions, with the day said to mark the ancient middle of summer.
According to the National Trust, the summer solstice was often marked by Celtic, Slavic and Germanic people by lighting bonfires. With this special act, it was thought that they could boost the Sun's strength for the remainder of the crop season.
Although there's no written account from ancient times, it's believed that Neolithic stone circles were also built around the Sun's movement at Solstices. One of the most famous Neolithic monuments on the planet is Newgrange in Ireland, which dates back to 5,000 years ago and is a popular tourist location. In the Irish language, Solstice is 'Grianstad,' which translates to, 'Sun stop.' Grianstad is observed at Newgrange each year.
Another well-known example is Stonehenge in the UK, where perhaps the most renowned Summer Solstice 2022 event will take place.
What happens at Stonehenge at summer solstice?
Stonehenge in Wiltshire, UK, is one of the most popular UK staycation destinations for people wishing to celebrate the summer solstice. Every year on the same day, visitors to the 5,000-year-old stone circle can watch the sunrise behind the Heel Stone and see the first rays shining into the very heart of Stonehenge.
According to Druidry.org (opens in new tab), every year Druids visit the sacred site, to celebrate Alban Hefin - the Druid name for Summer Solstice. Druidry is a spiritual or religious belief that revolves around mother earth, worshipping and syncing with the natural world.
Each year, the white-robed figures greet the dawn with traditional rituals at Stonehenge. They're joined by fellow Druids as well as non Druids, to greet the special day.
Spiritual meaning of summer solstice
Yoga teacher Nicole Harley (opens in new tab), an expert in energy and sound healing, incorporates shamanic training into her practice. Speaking exclusively to woman&home, she shared the spiritual meaning behind Summer Solstice 2022 and how to harness its power.
"Every solstice is about honoring the cycle of life," she explains. "The Summer Solstice often lands during the longest days of the year, it's about celebrating the power of the light before we start moving towards darkness."
It's a moment when the world is being super-charged with the power of the Sun, she adds, "so you can use this time to super-charge your own power, magic, and intentions for the rest of the year."
Considering the Strawberry Moon 2022 was a Supermoon, you may have already put your manifestation hat on in the time before Summer Solstice 2022, but there's no such thing as too much abundance!
Nicole tells woman&home about the shamanic tradition known as feeding your flame.
"Fire is one the most powerful elements," she explains. "Used in shamanic traditions and ceremonies across the world to cleanse, release and for various practices and ceremonies."
In this ceremony, you'll use fire to feed and nourish our own power and intentions for the rest of the year ahead. Remember to be cautious when undertaking this ceremony, as fire can be dangerous.
How to create a summer solstice ritual
Create a sacred space
Light a candle (or a few candles!)
Set an intention
Scoop a hand across and over the flame and place your hand over your main power centers
1. Create a sacred space
Create a sacred place, an altar of your power objects, totems, and tarot cards. Use items that give you power or represent power that you want to invite into your life.
This altar can be a temporary one or one which you return to for your Full Moon rituals, manifestations, and all-around magic!
2. Light a candle (or a few candles!)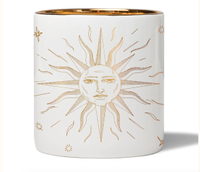 (opens in new tab)
Memories of Summer Candle, Wings of Wisdom| $96 (£80) (opens in new tab)
Lit with intention; Wings of Wisdom present their consciously-crafted perfumed candles, designed to illuminate a positive path. Light the Memories of Summer candle and reminisce, as soft scents of monoï and coconut drift through the room. Pure happiness. Notes of jasmine, mandarin, soft orange, monoï, vanilla, white musk, and kumquat
You can choose a colored candle to fine-tune your intention, go for a more luxury one as a Solstice treat, but a plain old tea light will be just as effective.
Light the flames and take in the illumination, think of it as the Sun high in the sky and the energy the fire it holds.
3. Set an intention
Perhaps you've been meditating on what you truly desire, so you can live your best life and truly manifest bliss. Ask the spirit of the fire to help nourish your own flame.
This is also an opportunity, if you'd like, to implement a burning ceremony - to symbolize letting go of the things that no longer serve you. With a pen and paper, take note of these things and ask the spirit of fire to help nourish your own flame, cleanse away what you no longer need and to fuel your own inner power.
4. Scoop a hand across and over the flame and place your hand over your main power centers
The womb space - the centre of your creation energy
The Solar Plexus - the centre of your body (beneath the ribcage above the belly) where your ego, drive and willpower resides
The heart - the center of your true self and heart's desires
In each space, rest your hands there, visualising the spirit of fire cleansing and nourishing this centre. Wait to see if any messages or images come up. If you receive any messages, make sure to act on them - if you're not sure about the instruction or action behind the message - perhaps journal about it to see if anything comes clear.
Trust your instinct - often you can get a sense around what the message might be and your intuition will be able to guide you on how to act.
Make sure to thank the spirit of fire for it's help and when you blow out the candle, you can use the mantra 'It is done. It is done. It is done' to complete the ceremony.
Happy Summer Solstice 2022!
Aoife is Junior News Editor at woman&home.
She's an Irish journalist and writer with a background in creative writing, comedy, and TV production.
Formerly Aoife was a contributing writer at Bustle and her words can be found in the Metro, Huffpost, Delicious, Imperica, EVOKE and her poetry features in the Queer Life, Queer Love anthology.
Outside of work you might bump into her at a garden center, charity shop, yoga studio, lifting heavy weights, or (most likely) supping/eating some sort of delicious drink/meal.