Succession season 4 teaser trailer proves the family drama is far from over and we can't wait for its return!
Scheduled to return in the spring of 2023, Succession season 4 looks just as dramatic and entertaining as ever in new teaser trailer clip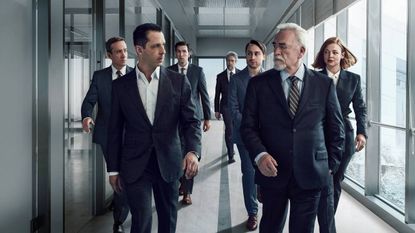 (Image credit: HBO)
It's official: HBO hit show Succession is coming back with season four in the spring of 2023.
While folks figure out where to watch all three seasons of Succession (or, rather, re-watch), fans are getting super-excited about the episodes to come since a new teaser trailer that debuted during the season 1 finale of The House of the Dragon, just proved to us all that the Roy family drama is far from over.
As a refresher, during the season 3 finale, Logan Roy was able to sell his company Waystar Royco despite his children ardently trying to stop him. Perhaps most shockingly, his own son-in-law, Tom Wambsgans, is actually seen betraying his own wife Siobhan Roy and basically taking his father in law's side in the lastly aired episode.
According to an official season 4 synopsis, "The prospect of this seismic sale provokes existential angst and familial division among the Roys as they anticipate what their lives will look like once the deal is completed. A power struggle ensues as the family weighs up a future where their cultural and political weight is severely curtailed." Needless to say, that sounds just as exciting as the previously aired episodes actually were.
In the ten-second clip, Logan gives a speech that basically functions as his vow to never give up on his business plans.
"This is not the end," he says. "We're killing the opposition. I'm going to build something better, faster, meaner, wilder. I love it here. I fucking love love it!"
Other familiar faces also make appearances in the trailer, including Siobhan and her siblings Connor, Roman and Kendall. Tom himself can also be glimpsed at alongside Logan's adviser Gerri Kellman.
The teaser trailer was part of a larger release that also celebrated the debut of new and the return of beloved series on HBO Max later this year, including a new limited political drama series starring Woody Harrelson and Justin Theroux called The White House Plumbers about the Watergate scandal. Based on 2007 book Integrity by Egil and Matthew Krogh, the series focuses on E. Howard Hunt and G. Gordon Liddy, the masterminds behind Watergate and President Richard Nixon's political operatives.
Also on the roster: four-part documentary SHAQ about professional basketball player Shaquille O'Neal; Love, Lizzo, a documentary about the glamous musician; a new limited crime drama starring Elizabeth Olsen called Love and Death; and a production based on the 2013 game The Last of Us.
In terms of returns, expect new episodes of The White Lotus to air soon alongside new seasons of The Gilded Age, The Sex Lives of College Girls, And Just Like That..., Last Week Tonight with John Oliver, Curb Your Enthusiasm, Hacks, Real Time with Bill Maher and The Climb, among others.
Television lovers have loads to look forward to!
Anna Rahmanan is a New York-based writer and editor who covers culture, entertainment, food, fashion and travel news. Anna's words have appeared on Time Out New York, the Huffington Post, Fortune, Forbes, Us Weekly, Bon Appetit and Brooklyn Magazine, among other outlets.