Shirley Ballas exclusive interview—'my beauty routine isn't full of expensive lotions and potions'
Shirley Ballas, Strictly Come Dancing's head judge, opens up about her second job, her secrets to looking good and staying in shape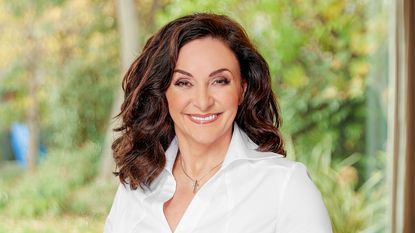 (Image credit: woman&home/Dan Kennedy)
Shirley Ballas has opened up in an exclusive interview and photoshoot with woman&home magazine. The Strictly judge reveals how she maintains her face and figure when the popular dance show is off air.
As the head judge on Strictly, Shirley Ballas has become a firm favorite in one of TVs most-watched shows.
Shirley says, "I do Strictly and everything that comes with Strictly, and I also teach dance. Anyone and everyone comes to my studio—a lot of highly-competitive people, juveniles, and juniors."
The Strictly Come Dancing Judge explains, "Dance is my safe place. It's what I've done all my life so I like to juggle my dance-teacher job and my marvelous job on Strictly."
Shirley's career has meant she is used to all eyes being on her and is delightfully honest about how she always looks so good.
Opening up about her skincare routine she says, "My beauty routine isn't full of expensive lotions and potions. I've stopped using cleansing wipes because they're apparently not good for your skin and very bad for the planet, so I now use Garnier micellar water to take off my make-up."
"I never go to bed without using moisturizer," she adds, "and over the last five years I've mostly used Liz Earle products. They're great! I also use Nivea and Astral cream, and any kind of moisturizing mask for my hands, feet and face. When you get older, your hands and neck are the first things to age."
Shirley also admits she's not averse to more advanced antiaging treatments.
---
The Strictly judge adds, "I am partial to a little Botox. I like a bit maybe twice a year and, I'm not going to lie, I'm open to a facelift. When I look at myself on the telly, I don't like the way my chin's looking from the side profile so I'll go and see the guy who did my boobs and if I do it, I'll be transparent."
When it comes to aging, you can't turn back the clock or stop time so it's about doing the best you can for yourself. When I go out, even to the store, I do my hair and put on some make-up. It's important to take care of yourself.'
Shirley also has an enviably slim figure, as showcased in our exclusive shoot, but she reveals like everyone, losing weight can be a battle.
"Restriction is a habit from years of being under scrutiny as a professional dancer. I do intermittent fasting and every morsel I put in my mouth, I'm counting the calories. Even so, I'm struggling to lose weight, which I think is down to hormones."
Shirley discusses her mother's strict regime. "My mum only weighs eight stone and weighs herself every morning," she says. "If she puts on a pound, she gets that pound off."
"She eats because she needs a bit of fuel and doesn't overindulge. That's the way I am and I don't see it changing. I'm a size 10 and when I first joined Strictly, I dropped to a size 6 but that wasn't maintainable."
---
---
The full interview with Shirley is featured in the March issue of woman&home, on sale Thursday, February 3, 2022.
---
Gemma is a freelance celebrity interviewer, journalist, and showbiz expert. She's sat down with everyone from Kim Kardashian and Nicki Minaj to Ed Sheeran and Ant and Dec plus thousands of famous faces in between.
Since launching her freelance journalism business in January 2015, she's written for publications including The Sunday Times Magazine, Fabulous, Event (Mail on Sunday), HELLO!, OK!, Grazia, NOW, Closer, LOOK, New, Reveal, Essentials, Cosmopolitan, The Sun, Daily Mirror, and Daily Mail.