Shania Twain proves she's still the one after wearing the exact same outfit from one of her most iconic 90s music videos
Re-wearing the exact same outfit from nearly thirty years ago? That does impress us much!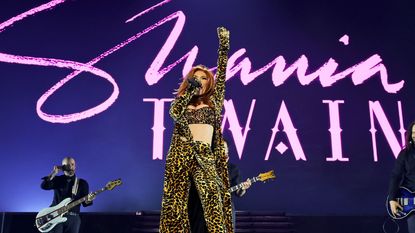 (Image credit: Kevin Mazur/Getty Images for Live Nation)
They say a leopard never changes its spots, and a queen of the leopard print is also proving she hasn't changed a bit in nearly three decades too.
That's right. Shania Twain has blown fans' minds as she slips right back into her original 1997 That Don't Impress Me Much leopard print outfit for her new world tour.
The iconic queen of country pop has roared back into the industry this year, proving why she's such a beloved legend. Her first album since 2017's NOW, titled Queen of Me, came out in February this year and hit the top of the charts in countries around the world.
But, as she gets more comfortable in her skin as she gets older, learning to love her menopausal body, Shania has also picked up a horde of new fans who love her carefree energy and playful fashion looks.
As she kicks off her Queen of Me world tour in the United States, the Man! I Feel Like a Woman chart-topper is showing off how seamlessly she's merging the iconic looks of her past with her current positive energy and fashion-forward boldness.
As she strutted her way through her sold-out show, Shania rocked everything from platinum blonde wigs and superhero inspired capes as she rides a motorbike on stage.
But it really was a blast from the past that has fans giving her a standing ovation.
Shania sported the iconic leopard print look from 1997's That Don't Impress Me Much music video, including the floor length coat, micro top, high-waisted flared pants, and full length leopard gloves.
She finished off the look with a pair of chunky, leopard platform boots.
While many stars love to recreate their iconic looks – as with Pamela Anderson recently rocking a Baywatch inspired swimsuit to launch her new swimwear line – Shania's taken it one step further. Because it turns out, she's not wearing a recreation – it's the exact same outfit she wore nearly 30 years ago.
The Waking Up Dreaming singer seemed to confirm that she was indeed wearing the same outfit from the 1997 video by reposting various fan photos and comments on Instagram.
Talk about a sustainable queen!
If you're wondering how she's managed to get into the same outfit from 1997 – and we imagine you're not alone in that! – it could all be put down to her somewhat bizarre pre-performance diet.
Recently, in an interview with Delish, the star revealed that a liquid-only diet is her regime of choice.
"It's a vocal thing and an energy thing and a digestive thing," began Shania in the interview. Previously Shania has been candid about her open-throat surgery which explains why her voice and caring for her vocal cords and the nerves surrounding them, is of utmost importance to her.
The singer added, "When you're using your diaphragm a lot, you end up getting really burp-y and bloat-y if you're trying to manage your air after having solids."
Although she sticks to mostly liquids on the day of a show, the singer explained that there are exceptions, "If I wake up earlier than usual on a show day, then I'll treat myself to something with my tea," she said. "So I might have an avocado toast. I'll have a papaya, maybe a breakfast croissant, or something like that."
Jack Slater is not the Last Action Hero, but that's what comes up first when you Google him. Preferring a much more sedentary life, Jack gets his thrills by covering news, entertainment, celebrity, film and culture for woman&home, and other digital publications.
Having written for various print and online publications—ranging from national syndicates to niche magazines—Jack has written about nearly everything there is to write about, covering LGBTQ+ news, celebrity features, TV and film scoops, reviewing the latest theatre shows lighting up London's West End and the most pressing of SEO based stories.