Shania Twain feels more confident than ever as she poses nude, 'I didn't do it when I was younger, so I'm doing it now'
The iconic singer is preparing for her first studio album in five years!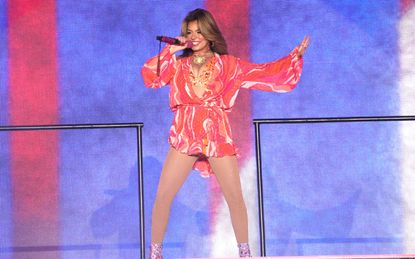 (Image credit: Jeremy Chan/Getty Images)
Shania Twain is gearing up for a major comeback with her first studio album in over five years, and with a new era comes a whole new attitude.
The Man! I Feel Like a Woman superstar's new album is titled "Queen of Me" and she's taking the regal theme of the album to heart. Shania, at 57, is embracing her own strength and power more than ever before.
Shania has plenty of reasons to celebrate her accomplishments – having tackled the condition that nearly ruined her career and rebounding with a number one album in 2017 and a Netflix documentary more recently.
Moving onwards and upwards, she's showcasing her confidence in the daring visuals used for this album. Shania's album teasers so far have seen the icon posing in a cowboy hat, cowboy boots… and not much else.
Describing her decision to get a little freer with her photoshoots, Shania explains that her new chapter – both musically and personally – is about her conquering all the things she was too insecure to do when she was younger.
"I was a very insecure woman, girl... I was one of those teenagers that would never wear a bikini at the beach, for example," she recently told TalkShopLive. "So I'm saying, well, the heck with that. I didn't do it when I was younger, so I'm going to do it now. I'm going to feel and show that I feel comfortable in my own skin."
"Trust me, this took courage because I am so not an exhibitionist. It was all about my own message to myself. Just saying, you know, it's just time to feel comfortable in my own skin and share that with other people and just share those insecurities, shed that skin of insecurity," she went on to say.
As well as shedding some of her inhibitions, Shania also realized she had new challenges to conquer – especially as newer insecurities around aging started to creep into her life.
"Repeating the message to myself was the beginning, just saying, 'OK, I'm fine with the way I look, I'm fine aging, I'm fine and comfortable with myself.' And this was the final step of saying, OK, I can't just tell people that. I can't just say it. I've got to live it," she explained.
With this album, it's all about "taking responsibility for what I put out there, what I project" by being "less apologetic for how I am, how I look, [and] less affected by other people's criticism."
Shania first announced the album on Instagram – out in February 2023 - telling fans she hoped her messages of self-empowerment encourage fans to embrace their own.
She announced the upcoming album alongside the release of the first single from it, titled Waking Up Dreaming.
In that video, she's seen in a myriad of colorful outfits and wigs, giving us even more iconic Shania Twain looks.
On her social media, Shania wrote, "Life is short and I want to be uplifted, colorful, unapologetic and empowered. I want to carry a clear message, particularly as a woman, to always remember my power and I hope the songs are a reminder to you, of that same power inside you!" she wrote. "I'll be Queen Of Me—you be Queen of YOU!"
Who are we to ignore Shania's advice?
Jack Slater is not the Last Action Hero, but that's what comes up first when you Google him. Preferring a much more sedentary life, Jack gets his thrills by covering news, entertainment, celebrity, film and culture for woman&home, and other digital publications.
Having written for various print and online publications—ranging from national syndicates to niche magazines—Jack has written about nearly everything there is to write about, covering LGBTQ+ news, celebrity features, TV and film scoops, reviewing the latest theatre shows lighting up London's West End and the most pressing of SEO based stories.