See inside Nicole Scherzinger's beautiful million-dollars mansion in Los Angeles
Pussycat Dolls member Nicole Scherzinger just opened her home to cameras on season 19 of iconic show MTV Cribs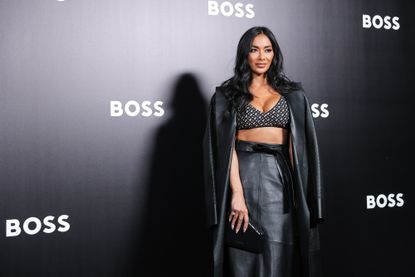 (Image credit: Victor Boyko / Contributor)
Season 19 of iconic show MTV Cribs is officially premiering tonight, taking viewers inside the homes of top celebrities in two back-to-back episodes.
The first episode will showcase Matt James and Tyler Cameron of The Bachelor fame, model Olivia Culpo and professional football player Dwight Howard. The second segment, on the other hand, will focus on Pussycat Doll member and current judge on The Masked Singer Nicole Scherzinger's lavish mansion in Los Angeles.
Although you'll have to wait until tonight to see the sprawling home in all its beautiful grandeur, MTV did release some photos providing a behind-the-scenes look at Nicole's 4,602-square-foot abode.
The 44-year-old singer bought the home in the Hollywood Hills for $3.75 US million back in 2016 and she has been living there ever since.
The pretty grand house boasts four bedrooms, four bathrooms, a home theater and an outdoor pool and sauna, among plenty of other awesome amenities.
As can be glimpsed at through the photos, the interior aesthetic is clean and to-the-point, boasting a whole lot of marble and floor-to-ceiling windows overlooking the Sunset Strip.
Of notice are the large plants found all across the space, which add a flair of vivacious lived-in style that actually makes the home feel cozy - despite its obviously extravagant nature. Speaking of: fans will appreciate a fun swing by the small saltwater pool overlooking the city, the bedroom that Nicole converted into a gym and the grand piano that sits in a nook outside her own room.
Although the large bed, private terrace and in-suite bathroom with a steam shower, marble floors and a deep-soaking tub that are part of the star's own room are very impressive, it is Nicole's closet in said space that will likely gather most praise (and jealousy).
As proven by the recently released photos of the space, the closet is filled with a ton of designer shoes and luxury clothing that are sure to dazzle both fashion devotees and none. The closet is truly a sight for sore eyes.
In other Nicole-related news, the chart topping superstar reportedly recently confirmed to friends and family that her and boyfriend Thom Evans will soon be getting married. According to reports, the 37-year-old football player popped the question to his girlfriend of nearly three years while on a recent vacation to Greece together.
Fun fact: the two have another TV show to thank for their romance. In fact, Nicole and Thom met on The X Factor: Celebrities back in 2019!
Upcoming episodes of MTV Cribs will take viewers inside the homes of celebrities of all calibers, including Michael Strahan, Leslie Jordan, Macy Gray, Ariel Winter, Dennis Rodman and Whitney Cummings, among many others.
We'll just say it: real estate porn is truly addicting - a fact that likely contributed to the return of the legendary MTV show, which originally ran from 2000 to 2010 but made a much-appreciated comeback in August 2021.
Anna Rahmanan is a New York-based writer and editor who covers culture, entertainment, food, fashion and travel news. Anna's words have appeared on Time Out New York, the Huffington Post, Fortune, Forbes, Us Weekly, Bon Appetit and Brooklyn Magazine, among other outlets.